Investment risk and returns
All investments involve some level of risk. Before investing, have you decided how much risk you are willing to take in search of good returns? This is called risk tolerance, and will affect which investment options are suitable for you.
Your risk tolerance is personal to you, and depends on factors including:
Your investment timeframe: if you're going to need access to the money in the short term, you will be able to take less risk.
Your personality: some people will be comfortable with the prospect of losing some or all of the money they put in, while others will find this distressing.
Your capacity to take risks: this is about the potential impact on your finances if you lost the money you invested. Someone with other savings in place, and a well topped-up emergency fund, has a greater capacity than someone with no savings and no emergency cash.
Let's take a look at what "low", "medium" and "high" risk really mean when it comes to investing.
The charts in each section illustrate what kind of returns you could expect, under different market conditions, from a portfolio built for different levels of risk. The projections are based on probabilities derived from historic stock market performance. The expected range of returns is based on £1,000 investment. These projections are not a guarantee of future performance; they are intended to help inform your choices.
For further information about how these returns have been calculated, and the suggested asset allocations they are based upon, please see our asset allocation guide.
Low Risk
Keeping your capital safe and avoiding loss is your top priority
You're not comfortable exposing your capital to much risk in pursuit of higher returns. Cash savings are very low risk, but returns are usually low and rising inflation may reduce the real value of your money over time. If you're comfortable with a little more risk, you could consider combining cash savings with another asset class such as bonds, which are relatively low risk.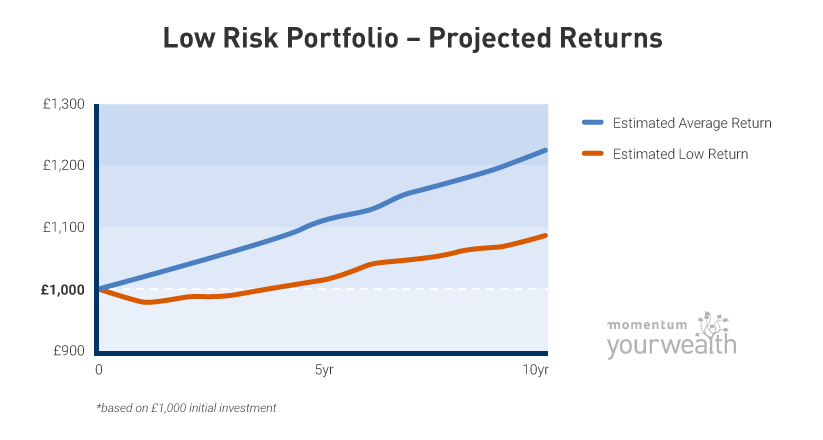 Investing in a low risk portfolio indicates that capital preservation is a priority for you. A low risk portfolio aims to generate modest returns over the medium to long term. However, your investments may still fall in value, and there is a chance you could get back less than you paid in.
Medium Risk
You're aiming for slow and steady returns
You're willing to take a moderate level of risk with your capital, and are comfortable keeping your money invested for at least 5 to 10 years. This should give it time to recover from short-term falls, in order to achieve steady growth in the long term.
You could consider holding a combination of lower to medium risk investments such as cash, bonds and property, and higher risk investments such as shares, which should perform well in different market conditions.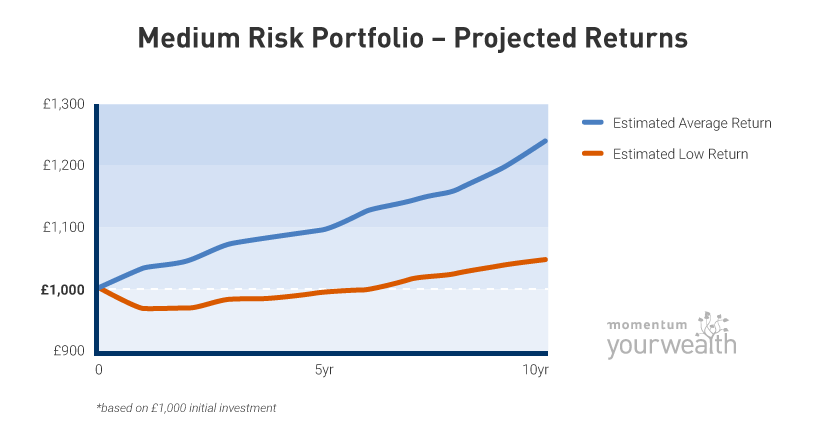 Investing in a medium risk portfolio indicates that you are prepared to accept some fluctuation in the value of your investments. This means that you could make a loss on the amount you invest, particularly in the short-term.
High Risk
You're willing to risk bigger losses for higher potential returns
In order to pursue greater potential returns, you're prepared to invest in riskier asset classes. In the long term this strategy can pay off, but you should be aware that your capital is vulnerable to risk. A portfolio composed primarily of equities, including a mix of UK and international companies, would be considered high risk.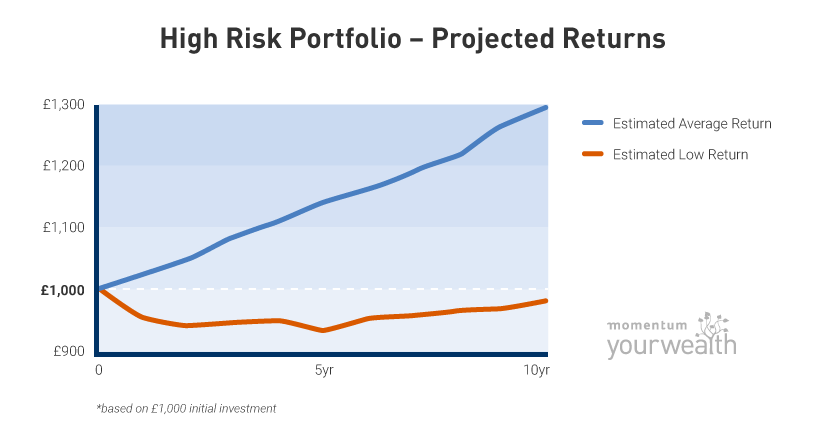 Investing in a high risk portfolio indicates that you're comfortable that the value of your investments may fluctuate quite significantly, and you may get back less than you paid in.
For information on how to construct an investment portfolio that is aligned with your risk tolerance, visit our guide to asset allocation.
Last updated: 05 February 2016