Last year the housing market was barely off the news agenda for a moment. Rising house prices and concerns about the impact of buy-to-let investing were hot topics – last year buy-to-let mortgage lending was at its highest level since 2007.
But if 2015 was the year of the buy-to-let landlord, are we about to see the scales tip back in favour of the first-time buyer?
Certainly, for most first-time buyers, raising a deposit remains a major challenge.
Even so, we've identified three factors that could converge to make 2016 a (relatively) good year for those trying to get on the housing ladder:
Let's take a closer look at each of these, and what they could mean for you if you're looking to buy.
Government help for first-time buyers is at its peak
The government's Help to Buy scheme, launched in 2013, aims to help buyers with smaller deposits get onto the housing ladder. This year will see a unique overlap between the four different strands of the scheme:
Equity loan: First-time buyers with a 5% deposit can borrow a further 20% from the government, in order to take out a 75% LTV mortgage. There's no interest to pay on the loan for the first five years.
Mortgage guarantee: First-time buyers can take out a 95% LTV mortgage, and the government provides extra security for the lender by guaranteeing some of the loan. This scheme is scheduled to end in December 2016.
Help to Buy ISA: A special Cash ISA for prospective buyers. You can save up to £200 a month, and when you put the money towards your first home you will receive a government bonus of 25% (up to a limit of £3,000). The first Help to Buy ISAs were launched in December 2015.
Help to Buy London: This variant of the equity loan scheme, available on selected new build developments in London, has an increased limit of 40% of the property to reflect higher property prices in the capital. This scheme began on 1 February 2016.
With the Mortgage Guarantee scheme in its last year, we can expect to see a flurry of first-time buyers taking the extra help while they still can.
Meanwhile, the Help To Buy London scheme has already attracted 15,000 applications. The equity loan scheme will continue to be available until 2020. And the new Help to Buy ISAs can be opened until 30 November 2019 – you can still save into an existing ISA after this date, but you must claim your bonus by 1 December 2030.
So with two new Help to Buy schemes launching while the original two are both still available, 2016 appears to be peak time for government assistance for first-time buyers.
Favourable borrowing conditions set to last all year
If rising house prices have put pressure on first-time buyer finances, low mortgage rates have at least done their bit to ease the strain.
Here's how the average interest rate has fallen on two and five-year fixed rate mortgages over the last five years: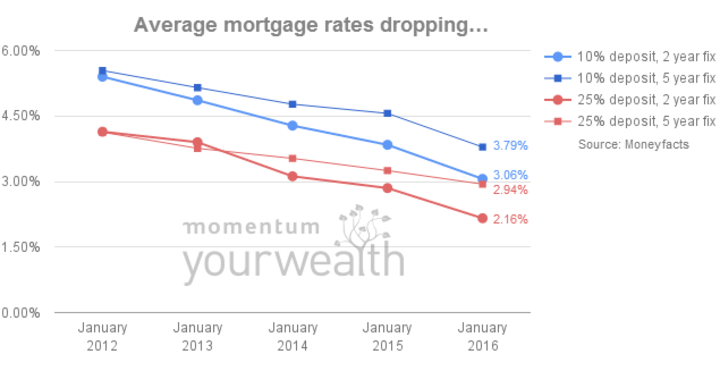 (You can compare today's first-time buyer mortgage rates here).
So at the start of 2016, average rates are as generous to first-time buyers as they've been in a long while.
For a while last year, it didn't look like it would turn out that way. Bank of England governor Mark Carney had hinted that the first quarter of this year could see the first increase in the bank base rate since it fell to its current level in 2009.
That now looks unlikely. According to Howard Archer, chief economist at think tank IHS Economics:
The increased likelihood that interest rates may not rise until at least the fourth quarter of 2016 could very well give a boost to housing market activity.
So rates could stay in first-time buyers' favour – for now.
That said, there is a danger that today's first-time buyers may not be prepared for the rate rise when it does come. This generation has only known low rates – a 25 year old would have been aged 16 the last time rates were as high as 5.5%.
If you're considering taking out a mortgage, make sure you could still afford the repayments if interest rates rose. As part of the new affordability checks, lenders now have to carry out a "stress test" to make sure you could cope with a rate rise – but it's worth doing your own before you apply.
Better buying conditions, thanks to buy-to-let tax changes
Towards the end of 2015 a number of tax changes were announced, aimed at curbing the influence of buy-to-let landlords over the housing market. These include:
Tax relief on buy-to-let mortgage costs to be capped at 20%
Changes to the way buy-to-let investors calculate their profit
Buy-to-let purchases to face an extra 3% in Stamp Duty from April this year
The thinking behind these changes is that would-be investors will think twice before entering the buy-to-let market, with the aim of freeing up the supply of homes for first-time buyers.
Of course the impact of the changes is yet to be seen, but here are two ways we could foresee them working in favour of first-time buyers:
Less competition from buy-to-let landlords for starter homes this year
Once the Stamp Duty change takes effect in April, property investors are less likely to outbid first-time buyers and take properties off the market quickly. Those landlords that want to buy will be seeking to do so before the tax increase, which could result in a less crowded market for the summer of 2016.

This effect is likely to be short lived, as we expect the market to level out eventually, but could provide a temporary fillip to first-time buyer fortunes. For a longer lasting change

Landlords selling up as Income Tax changes loom
For a longer-lasting change there needs to be a deeper shift in supply and demand, and that could be spurred on by the changes to income tax for private landlords. The changes make it harder for mortgaged landlords to make a profit and will be phased in over 4 years – which could result in more homes suitable for first-time buyers coming on to the market, as some landlords choose to sell.

The effects on the market could be long term too; a buy-to-let landlord can take a property out of the market for decades, reducing the supply of homes, but a first-time buyer will usually move on from a property after a few years. Because of supply and demand, this could mean that prices for first-time buyers eventually level off – or that the rate of increase slows down somewhat.
Challenges for first-time buyers
Of course, the challenges faced by first-time buyers haven't disappeared overnight. Tracy Kellett, a buying agent in London and the South East, said:
I certainly believe that first-time buyers are keener than ever with prices rising. However, it remains very tricky for them to get deposits together, particularly in the South East. As nice as it would be to think that it may be year of the first-time buyer, I fear it will still remain more of a pipe dream than a fulfilled dream for many.
Raising a deposit
In January, the average house price was £196,829. For prospective buyers who are spending a large proportion of their income on record high rents, raising a deposit is a tall order (let alone fees and other costs). Although low interest rates mean that borrowing is cheap, poor savings rates mean that progress is painfully slow for those trying to build up a deposit. In the meantime, rising house prices mean that by holding on for a few years to grow their deposit, some risk finding themselves priced out of the market completely.
Many first-time buyers rely on family to help, but for others it's a case of plugging away and making short-term sacrifices in order to build up savings. If you're just getting started, making a budget can help – visit our guide for more information.
Passing affordability checks
In April 2014, the Mortgage Market Review (MMR) led to the introduction of a series of new affordability checks for mortgage applicants. The checks are designed to ensure responsible lending, and lenders are obliged to carry them out on anyone applying for a mortgage. Expect to be asked questions about your spending habits, childcare costs and future plans – find out how you can prepare with our comprehensive guide.
There are no certainties in the property market, but a combination of legislation and economic factors could ease the burden on first-time buyers this year.
What do you think? Will 2016 be the year of the first-time buyer? Tweet your thoughts to @YourWealthUK.
First-time buyer mortgages: find your rate…