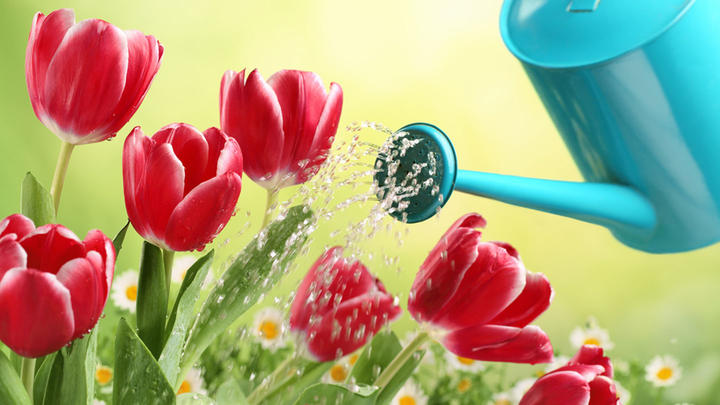 Spring is in full bloom and Summer seems more plausible after this weekend's heatwave. The RHS Chelsea Flower Show also opens to the public this week for a dazzling emerald homage to all things horticultural. For the green-fingered among us, this is the perfect time to get out in the garden, but it could also be a great time to prune, plant and harvest your finances too...
Tidy and mend
Now the Spring blooms have, well, bloomed, gardening bloggers recommend deadheading any faded flowers to ensure the plant doesn't waste any unnecessary energy on producing seed heads. The end of May is also a good time to give boxes and Spring flowering shrubs a bit of a prune and a tidy up. If we use an analogy of a garden to look at your finances, there could also be some room to prune, de-clutter and hoe over your accounts. By reviewing your financial products seasonally to make sure they still meet your needs, you can be sure you're getting the best rates, are still covered by any insurance policies you have, and are getting the most for your money. We covered Spring cleaning your finances a couple of weeks ago - take a look.
Sow your own wildflower meadow
Got a sorry-looking patch of ground in need of some TLC? (Have the same for your finances?) Gardening blogs suggest scattering cheap wildflower seeds to create a Summer meadow. It's no-fuss gardening at it's best. Likewise when it comes to your money, are you getting the right return on your investments? Whether you've scattered them across products and funds, or you're invested in one place and through one provider, or you have never invested, it might be worth taking stock of your position. If you have investments, are they on track to bloom when and to the extent you wanted? If your circumstances have changed since you first invested, have your plans for your invested money changed? You can keep track of your investments against all of your other accounts, debts and savings with our award-winning MoneyHub tool.
Start seeding indoors
Half-hardy annuals work best if started indoors or under the cover of a greenhouse. Now's a great time to get them going before planting out later in the season. If you keep them indoors you could have flowers until nearly Christmas. When it comes to your money, how are your savings keeping lately? It might be worth assessing how 'hardy' they are - and how long it'll take you to reach your goals based on current performance. For instance, are your savings fixed rate and bound up for a fixed term with no access? If you're hoping to support your child through university, buy a house, take a once-in-a-lifetime trip, or even buy a yacht, there's never a bad time to take stock of your savings. Have you got enough to weather you against the storm of something unexpected?
Reap what you sow
If you're lucky enough to have a veg patch or funky window box, now's the time to harvest kale, cauliflower, spring cabbage, first carrots, salad leaves, edible marigolds, chard, spinach, parsley, coriander, strawberries and rhubarb. The list goes on. With so many tasty treats emerging from the garden, it could be time to think about the harvest to come: your pension. However far away you are or feel you are from retirement, saving for your retirement could be something to regularly consider. If you're looking for more information about pensions, check out our pensions pages. To see how your pension pot, whatever its size, may grow over time, try our pension calculator.