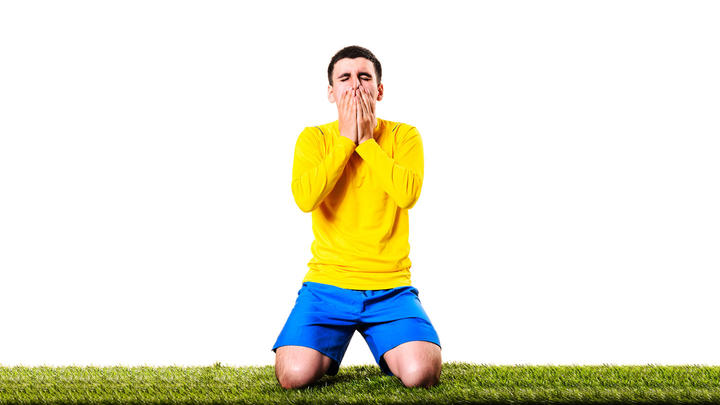 Setting goals can help you to achieve more - but what can do you do when you fail to meet them?
Don't beat yourself up
"Think positive!" goes the well-worn self-help mantra. While it may not contain the answers to all your problems, psychology studies have demonstrated the power of positive thought and on the flip-side, the damaging effect of negativity on your health, wellbeing and levels of motivation.
If you miss your goals beating yourself up won't help you do better next time,so why bother? There's no doubt that missing certain goals can have serious consequences, but learning from your mistakes and adopting a practical, systematic and realistic approach can help you to do better in future.
Learn a lesson
Rather than being harsh on yourself with negative feelings of failure, consider why you failed to meet your goal, and take positive steps towards doing better next time.
Ask yourself why you failed:
Is it an unrealistic goal given your resources and time-frame?
Did something else get in the way?
It's also worth remembering that everyone fails occasionally. Abraham Lincoln failed to be elected to office no less than eight times before becoming president, Albert Einstein failed maths at school and was told he would never amount to much. Some of the greatest achievements of our time came after someone failed but didn't give up.
The epigram "keep calm and carry on" may have been over-used in the extreme over the last few years but, like it or not, there's some value in it that can be applied when you miss an important goal.
Don't panic
According to psychologists Mara Mather and Nichole R. Lighthall, being under stress may affect your ability to make smart decisions. Their article published in the the journal Current Directions in Psychological Science suggests that decisions made under stress "may result in a bias towards potentially rewarding options while diminishing avoidance of negative options". In other words when you make a decision and you're under stress (in a panic) you may be more likely to focus on the potentially rewarding outcomes, rather than considering the possible bad outcomes too.
If something goes wrong, even if the result is potentially disastrous for your finances, keeping calm and focussing on clearly weighing up your options can improve your chances of making a smart decision to get out of a tight spot.
Bite-size your goals
"I want to lose 15kg by August."
"I want to build an extension by the end of the year."
"I want to be a billionaire by the time I'm 40."
Have you failed to achieve your goals because they're just too far removed from the here and now? Setting goals like this can be like trying to use a ladder with two rungs: one at the top, one at the bottom and nothing in between.
Big ambitions may help you to motivate and stretch yourself, but knowing what you want to achieve this week or this month can give you that regular boost that you need.You also won't run the risk of leaving all of the steps you need to take to meet your goal right until the last minute.
Rather than breaking your big goal down, try making smaller goals throughout the month, year or decade. That way you'll enjoy a sense of achievement at those regular intervals and know you're on track to meet your big ambitions.
Implement a pecking order
If you've got several goals competing for your attention, get them into a pecking order. What's most important to you?
A good place to get started is by prioritising the goals that will have negative consequences if you fail to achieve them. If you've got a credit card bill to pay off you may want to give this priority over saving for your next holiday. Taking this approach could help you save money and stress in the long run.
Next, prioritise according to what's most important to you and your family. Post-it notes can be an effective tool to help too, write down your goals for the next week, month, year and switch them round until you have an order you're happy with.
Monitor as you go
According to a study by psychologists at Sheffield University, when faced with the prospect of negative information people have a tendency to bury their heads in the sand to avoid what's really going on and there's even a phrase for it: "the Ostrich problem". The concept of burying your head in the sand isn't a new one, but the ongoing study by Thomas Webb, Betty Chang and Yael Benn found that keeping track of what's going on - the good and the bad - can actually be good for you.
Setting small bite-sized goals will help you monitor more regularly and effectively, so you can see well before the deadline you've set yourself whether things are on track or not. MoneyHub is a money tracking tool that allows you to check in regularly on your financial goals with minimum hassle. Whether you want to clear debt or build savings in the short or long term, MoneyHub enables you to define your own goals, updated against your everyday spending.