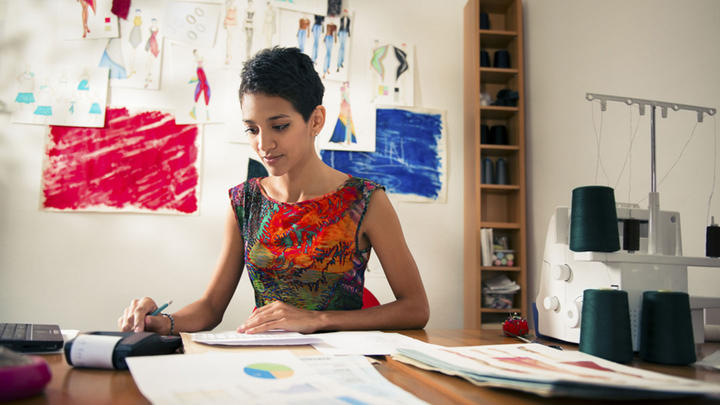 Ask any successful entrepreneur and they'll tell you about someone who inspired them by example. For Richard Branson, his greatest inspiration was his mother who imparted her fierce work ethic and pragmatic, no-regrets way of looking at the world on to her son from an early age. From being a 20 year old with poor English and maths qualifications, a list of failed get-rich-quick endeavours, and an ailing business, to a billionaire entrepreneur also feted for his humanitarian work, it's fair to say Branson has a lot to pass on to us about going against the grain. So, how entrepreneurial are you when it comes to your finances? Here are five inspirational ways to think differently about managing your money…
1. "You don't learn to walk by following rules. You learn by doing, and by falling over" - Richard Branson.
Never disregard risk, but do try new ways to manage your life and your money better. If you fancy yourself as an entrepreneur why not try setting up your own business? If you're afraid of failure, making sure you plan adequately and have a financial safety net in place in case things don't work out can help you rest easy at night. But whether or not you're a budding Branson, you can use mistakes already made to your advantage: if you've pursued a money management strategy that hasn't worked for you, review your situation, learn from your mistakes and pass your learning on to friends and family.
2. "After a certain point, money is meaningless. It ceases to be the goal. The game is what counts" - Aristotle
When it comes to your finances, inertia may often take over. It seems far simpler to keep paying for home insurance each month without wading through policy documents or terms and conditions to check the policy details still apply, or to make sure you're still getting the best deal for your circumstances. But that could be one way you take control of the "game". It's good to set goals, but to achieve them, whether it's paying off your mortgage by a certain date, or going on a once in a lifetime holiday, you need to focus on how to get there. Perhaps more than anyone, entrepreneurs get stuck in to every aspect of their business from the very beginning. They learn to take an avid interest in what everything costs, the conditions of the market they're entering, and the minutiae of multiple jobs that would perhaps normally be performed by a team. They're driven by their goals, but they have to be incredibly invested in the process of reaching them.
3. Benjamin Franklin (who had a printing business) asked himself "What good shall I do this day?" every morning, and "What good have I done today?" every evening
A successful entrepreneur is a chameleon, effectively adapting themselves to whatever needs doing, and reacting quickly to competitors or market changes to make sure they're at the forefront of what's going on for their customers. To become the next big thing, they need to re-evaluate daily. In terms of your finances, this could be something to put into practice, even if only once or twice a month. Getting into the habit of tracking your savings and investments, any insurance policies, mortgage and any other financial products to make sure you're still getting the right deal for you. MoneyHub, the innovative money management technology, allows you to track and predict the future value of your debts, savings, investments and net worth, as well as showing how well you're doing at-a-glance towards meeting your goals.
4. "A business that makes nothing but money is a poor business." - Henry Ford
Henry Ford pioneered the motoring industry with his no-nonsense take on building a business that could last. Although founding Ford made him a billionaire, he established his priorities early on. With so much often personally at stake in the first few years of a business, entrepreneurs are usually driven on the strength of that big idea or dream they hope to realise, that gap in the market they hope to fill. The same may be true of your money: while becoming a billionaire may seem like an inviting prospect, having smaller, more realistic goals and motivations probably rule the way your manage your finances. Taking stock and making time to review your money motivations, and whether or not you're making the most of what you have, is never a bad thing. If you're at a financial crossroads and considering mortgages, investing, pensions and annuities, financial planning, or tax planning, you might also want to consider seeking financial advice. After all, some of the most prominent entrepreneurs needed significant support and guidance to point them in the right direction.
5. "I wasn't satisfied just to earn a good living. I was looking to make a statement." - Donald Trump
Entrepreneurs are driven by a need for change. They're not content to work for anyone else and long to see their big idea come to fruition. In the same way, it's good to keep on your toes when it comes to your money. Entrepreneurs often have to be a jack of all trades, master of none initially, and have to learn constantly as their business takes flight. Don't sit comfortably. It pays to do your homework and know your way around financial products so that you can get the right deal for you. For example, comparing mortgages can be misleading unless you calculate the true cost including any charges and fees. Find your way around a wide range of products, from insurance to pensions, savings, investments and current accounts, and compare products to find the right one for you.