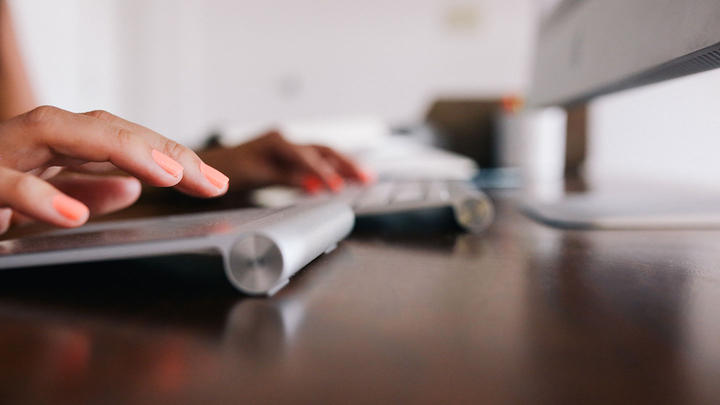 Is your workspace your creative castle? Or are you neglecting the place where you spend a significant chunk of your time? Many of us put a great deal of time, money and thought into creating the environment we want at home, but what about the work-station?
According to the Organisation for Economic Co-Operation and Development we spend an average of 1,654 hours at work each year, and for many that means sitting at a desk.
Can your desk inspire you? Let's find out.
Also: you share your own pleasant and productive workspaces.
Get back to nature
Having a plant or two on your desk can enhance your productivity and wellbeing - as well as looking nice. Taking a walk in the park may make you more focussed on a task, and if you work in an office overlooking greenery rather than concrete you may be more productive and satisfied according to studies.
According to Attention Restoration Theory, a concept developed by psychologists Rachel and Stephen Kaplan from the University of Michigan, our brains expend a lot of energy on tasks that require our direct attention. This can lead to a mental fatigue that can only be restored by giving our direct attention a break. It turns out that looking at nature offers the chance to do just that. In the study participants who sat at a desk covered in flowers and plants showed more improvement in attention tasks than those at a bare desk.
Natural light is also thought to be beneficial, with recent research suggesting that too much artificial light interferes with our circadian rhythms, or the relationship between the body and the 24 hour cycle of sunlight and darkness which tells our brains when to work and when to rest. So try to get a desk near a window if you can!
Good news for kitten fans everywhere: studies have shown that photographs of cute baby animals can enhance your mental focus! Researchers at the University of Virginia's psychology department found that viewing "very cute" pictures of puppies and kittens enhanced fine motor skills, and a study last year from Hiroshima University found that people who viewed pictures of baby animals - as opposed to adult animals or pictures of food - performed better on dexterity tests as well as a visual search test. Is it time to frame a picture of your favourite moggy?
Own it
Everyone likes to feel that they're in control of their own life, and this can apply at work as anywhere else. The ability to take ownership of your workspace - making your own decisions about how to organise and decorate your space - has been found to have an empowering effect, which in turn boosts productivity.
Why not put up some photos, buy a plant or bring in a nice cushion for your chair? Making your desk feel like home could make a big difference to the way you work as well as your wellbeing.
Tidy desk, tidy mind?
There is some debate around whether a messy desk is good or bad for productivity and creativity. Albert Einstein famously said: "If a cluttered desk is a sign of a cluttered mind, of what, then, is an empty desk a sign?" Einstein himself was well known for his messy desk - but how did it affect his work? Studies have shown that a bit of mess can sometimes be beneficial in jobs requiring imagination and creativity. Kathleen Vohs a researcher from the university of Minnesota found that participants tested in a messy room, at a paper-strewn desk, came up with more imaginative uses for a ping pong ball than those tested in a tidy room.
Of course, some people become so stressed out by a cluttered workspace that all productivity goes out of the window. It ultimately depends on what kind of person you are, and how you like to work. If you're prone to sudden bursts of inspiration, make sure you've got a notepad on your desk to scribble them down - just don't lose them in the mess! If you like to keep things organised, try to avoid devising a filing system so complex and time-consuming that tidying your desk becomes a procrastination activity in itself.
All week we've been asking you to share your "deskies" - photos of your workspace - on twitter. Here are some of our favourites:
Freelance writer Jo adds a personal touch to her home office
YourWealth.co.uk developer Jeff has a little helper on his desk!
Lucia's minimalistic creative writing space
Freelance web developer Jon found that adding more screens enhanced his productivity
We'd love to see more of your #deskies - tweet us @YourWealthUK
Now that you've organised your desk, why not do the same for your finances? The MoneyHub tool allows you to integrate all your accounts, track your assets and gain an insight into your "big picture" - as well as setting and tracking your monthly budget on the go. Managing your money is now as quick as sending a text! Try it free today.