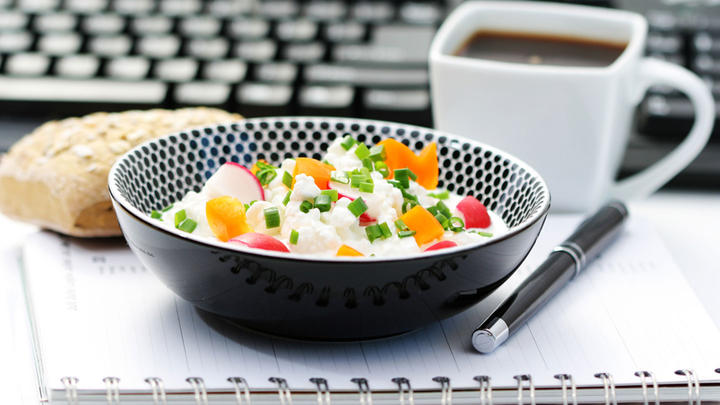 The clock strikes 12.30. Your tummy rumbles, you pull a cheese sandwich out of your bag and carry on working. Sound familiar? When you're in the middle of a busy day it can be all too tempting to work through lunch, or squander your break by staring at a screen or browsing aimlessly. This is could be a bad habit; not only is a break important for your health and wellbeing – doctors recommend a 15 minute break after every two hours of computer use – but you could be missing out on learning new skills.
Over the last few weeks we've put the call out on Twitter for your suggestions on making the most out of your lunch hour, and we've come up with a few of our own ideas too…
Learn a new skill
Learning a skill is good for your brain. Neurobiology tells us that learning something can improve your working memory, verbal intelligence and language skills, as well as helping to keep your brain active as you get older. Here are a few ideas to get you started:
Learn to code: coding is becoming an increasingly desireable skill and could prove invaluable if you ever decide to go freelance or start a business. You could even set yourself up as a freelance coder in your spare time. There are lots of websites that offer free bitesize courses such as Code Academy break the process down into short lessons – you can easily do three or four lessons in your lunch break
Get crafty: crafting has made a comeback, with people everywhere reaching for their knitting, crochet and sewing needles. Doing something with your hands could give your eyes a much-needed screen break. The editorial team at YourWealth.co.uk took up crochet a few months ago and have never looked back (one of our writers made this blanket…)! There are plenty of free tutorials and patterns out there so get cracking!
Learn a new language: it's easier than ever to learn a foreign language, whether you've got a trip coming up or just want to add another string to your bow. There are plenty of free websites and apps to help you learn at a pace that suits you. Our email editor, Sarah, spends her lunchtimes learning Mandarin!
Get healthy
If you work at a desk you might be concerned about recent studies that highlight the health drawbacks of sitting all day - the good news is that lunchtime could provide a chance to undo some of the damage.
Do a workout: lots of gyms run quick lunchtime classes, and many offer group discounts if you get your colleagues involved. The YourWealth team have a lunchtime squash league which can get pretty competitive!
Go for a walk or run: getting outside is good for you, and a run around the block is cheaper than joining a gym. Why not explore a new part of the city? Apps like Strava can help you to measure your performance and even compete with your friends.
Get Creative
Doing something a bit different with your brain can leave you refreshed and ready for the afternoon ahead, and you never know when inspiration could strike...
Make some art: do you draw or paint? Try creating your latest masterpiece in the office. You could go outside and sketch for the added benefit of fresh air
Write: In an hour you could draft a short story, write a journal or even start a blog. If you're an iOS or Mac user, you may want to try out Day One, a journaling app with the ability to pull in all kinds of data from your photos to the weather, as well as a passcode lock and the ability to publish as and when you want
Get the most out of your money
A little effort can go a long way when it comes to your finances. Taking a little time to check up on your direct debits, and make sure you're getting the best deal on your savings and mortgage could help you free up extra cash to put towards your goals.
The award-winning MoneyHub technology makes this easy. It puts you instantly at the centre of your financial universe, synchronising with your bank accounts to help you budget, track and grow your money. A hour is plenty of time to set up your account, create a budget and set a goal – and still have time for a delicious lunch. Why not try it today?
Spread some love
Get out there and use your lunch break as a force for good!
Be charitable: you could have a charity cake sale at work or pop out and grab a bargain at your local charity shop
Brighten someone's day: got an old friend or relative you haven't spoken to in a while? This could be a great time to give them a call and see how they're getting on. I'm sure they'd love to hear from you!
What you said
Here's some of our favourite tweets on the #LunchTimeChallenge hashtag. Add yours and tell us what you can achieve in an hour!
(By the way: naps are actually good for your productivity and health!)