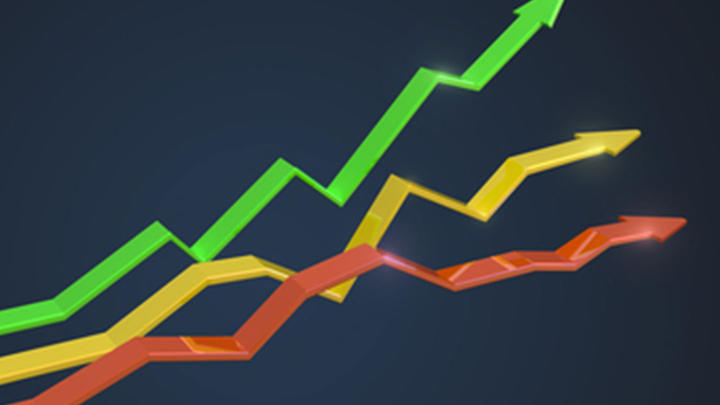 The rules for ISAs are changing dramatically. The current ISA limit is £11,520, but you can only save up to half of this as cash (or up to the whole limit in a Stocks and Shares ISA).
From 1st July you'll be able to hold £15,000:
All in a Cash NISA (New ISA)
All in a Stocks and Shares NISA
Or any combination of Cash and Stocks and Shares NISAs adding up to the overall limit of £15,000.
Why invest in a Stocks and Shares ISA?
Despite the amount you can hold in a Cash ISA rising to the new £15,000 limit - meaning that you'll be able to save more cash tax-free - ISA rates are at an all-time low. Stocks and Shares ISAs are a form of tax-efficient investment, and could give higher returns, but could also mean that you end up with less than you put in depending on their performance.
They may be both called ISAs, but a Stocks and Shares ISA is a completely different kettle of fish to a Cash ISA, which is purely a savings account you don't pay tax on. With a Stocks and Shares ISA you're investing in things such as corporate or government bonds, shares and funds:
Corporate or government bonds - lending a company or government money in return for interest. Not to be confused with fixed-term bonds.
Shares - investing in individual companies where the value of shares may go up or down depending on the performance of the company.
Funds - investing in a collection of shares, bonds, and sometimes cash, usually grouped around a particular theme or level of risk.
Is it right for me?
As always, its depends entirely on your circumstances. As a rule of thumb, investing requires a commitment of at least five years, and you need to be willing to put up with a certain amount of investment risk. It's also worth noting that, although historically Stocks and Shares investments outperform savings rates over the mid to long term, there's no guarantee that this will happen. Investments can go down as well as up, whereas savings offer capital protection and, often, a guaranteed rate of interest (although savings accounts are subject to inflation risk). Check out our beginner's guide to investing to find out more.
Is it tax-free?
Stocks and Shares ISAs are tax-efficient but aren't always tax-free.
Capital Gains Tax is a tax paid on things like selling shares, or a second home. Any capital gains made through a Stocks and Shares ISA are tax-free, but, as you're already entitled to £11,000-worth of gains tax-free outside an ISA, you might only benefit if you've used up this limit.
As well as potentially making money from selling shares that have risen in price, you may also be paid dividends. Dividends can be distributed to shareholders regularly, or as one off payments. Dividends are distributed to shareholders with a 10% tax credit attached. This credit can not be reclaimed by the ISA provider. If you're a higher-rate taxpayer who usually pays 32.5% tax, then you'd benefit from only paying 10% tax on dividends for shares invested through a Stocks and Shares ISA. For nil and basic rate taxpayers, there's no income tax benefit.
With corporate bonds, instead of investing in a company's success, you're effectively lending money to it for a set time. In return, you'll get interest which isn't taxed - so interest gained from corporate bonds or bonds funds are tax-free.
How to buy
You can invest through a Stocks and Shares ISAs via various providers, or another option is to use a fund 'platform'. A fund platform typically offers access to hundreds of investments with supporting research via an online log in, but may only be suitable for confident DIY investors and you should make sure you take financial advice if you are at all unsure about the suitability of a product for your needs.
You can typically invest via a Stocks and Shares ISA in variety of investment funds and even directly in shares using a fund platform.
If you choose a fund platform, you'll probably be charged by the distributor, platform and by the manager of the funds you choose - it's worth taking a look at the price of both when attempting a fair comparison. The platform provider will charge for using the platform (either a flat fee or a percentage of your investments); the fund providers will charge a fund management or annual management charge (typically 0.1% - 1% per fund) for using their funds.
Do you have a fund platform?
We've teamed up with Investment Funds Direct Limited (part of the Royal London Group) to provide access to their Investor Direct Platform where you'll find over 2,000 funds and shares. Using our platform, you can manage your investment funds, FTSE listed shares, Stocks and Shares ISAs and self-invested personal pensions (SIPPs) in one low-cost and easy-to-manage place, commission-free. It's good to shop around, so we've made the costs associated with managing your investments through our platform as clear and easy to understand as possible. You can invest a minimum £1,000 lump sum or from £100 a month as a regular contribution.
Should I wait until the changes take effect in July?
If you open a Stocks and Shares ISA now, you'll be able to top it up to the full amount after 1st July if you choose, as £15,000 will be the allowance for 2014/15.
What next?
Looking for more information on Stocks and Shares ISAs? Check out our quick guide. Or, if you'd like to find out more about the YourWealth.co.uk fund platform, as well as the details of any charges, visit our Stocks and Shares ISA page.