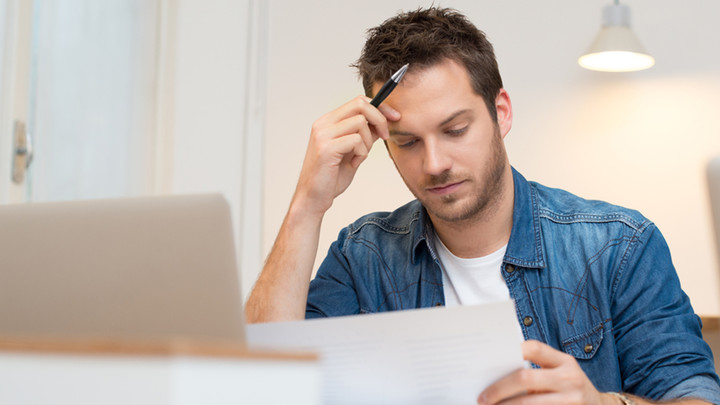 This is how most of us deal with those small, "life admin" tasks that make up a lot of good money management:
We recognise that something needs to be done or decided.
We postpone it. It's not urgent (yet). There's a dozen more pressing things to be done.
When it does finally become urgent, we act in haste.
As the saying goes: it it wasn't for the last minute, nothing would get done.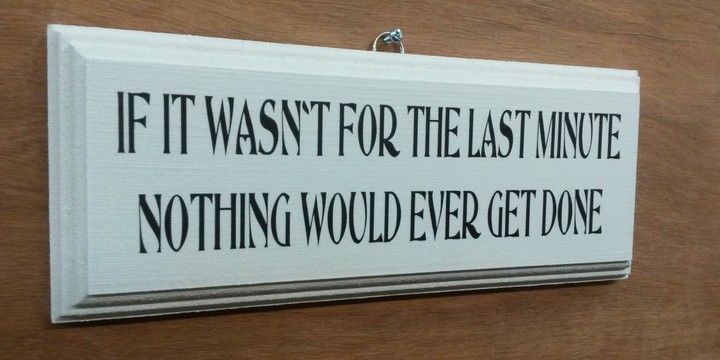 Procrastinating over important, non-urgent decisions is a well-established human tendency – especially with our financial lives.
But with our money matters, how much does it cost us when we leave things to the last minute?
For anybody interested in improving their financial wellness, being aware of where money goes – and when we're not getting the best value – is an important step.
If we were aware of the cost, could it help us cure the tendency to procrastinate?
We surveyed friends, colleagues and financial advisers to put together a list of thirteen of the most important things you might be putting off until it's too late – and how to make sure you get out of the habit.
But first, a head check: why are we so prone to avoiding the things we know we ought to do?
Why we procrastinate – especially over money matters
Behavioural science expert James Clear has an excellent summary on the urge to procrastinate. He cites the findings of two Harvard scholars who used a money problem to test the issue.
Their study asked participants whether they would agree to join a savings programme that automatically moved two per cent of their salary into a savings account.
Nearly every participant agreed that saving money was a good idea.
Their behavior suggested otherwise:
One version of the question asked participants to join the savings plan immediately. In this scenario, only 30 percent agreed to do that.
Another version of the question asked participants to join the savings plan in the distant future (say, a year from today). In this scenario, 77 percent said they would agree to enroll in the plan.
As Clear explains, this demonstrates how likely we are to favour our immediate comfort over the clear benefit to our long-term plans. We have a tendency to care too much about our present selves, and not enough about our future selves.
If you're determined that this won't happen to you, here are two ways forward.
First, you could join James Clear's mailing list and make a start on mastering better habits.
Second, read this list for some immediate actions you might be putting off – and actions you can jump in and take now, if you hadn't realised you were procrastinating.
1. Remortgaging in time (before your payments go up)
What we put off: Shopping around for a better mortgage – with enough time left to actually get it all set up before your old deal ends.
If you're on a fixed rate, tracker or discount mortgage deal, the end of your deal can creep up on you. This is especially true for fixed rates – the predictability of your mortgage payments can lull you into a false sense of security.
But what really fools us is an apparent belief that the remortgage can be done and dusted in less than a month. If you need the property valued, or have to run through the new mortgage affordability checks, it can take much longer than that.
What it costs us: Waiting until a few weeks before your deal expires could mean that you end up stuck paying your lender's uncompetitive SVR (standard variable rate) for a couple of months, as the remortgage process can take longer than you think.
What to do: Set a calendar reminder to start comparing remortgage rates at least three months before your current deal runs out. Once you've started the application process, the lender will hold the deal for you (usually for up to 90 days).
Compare remortgage deals
Compare today's UK remortgage offers and see what your new monthly payment would be. Find the exact mortgage you want.
2. Locking down low energy prices – before the winter bills
What we put off: Review our energy deal. Letting the bills get paid by Direct Debit each month can save you time and hassle, but it also makes them easy to forget about. If you're not on a competitive energy tariff, your energy costs could become a money leak – and the time to switch is before the cold temperatures kick in.
What it costs us: Once the big winter heating bill arrives, it's too late. The difference between a standard tariff and a market-leading fixed tariff could be as much as £290 a year, according to MoneySavingExpert, based on typical energy usage.
What to do: Compare providers and find a fixed-rate tariff (maybe even from the same provider you're using now). Or join the MoneySavingExpert Cheap Energy Club – it checks you're always on the best tariff without you having to do anything.
3. Getting mortgage-ready before you apply
What we put off: Making ourselves look good for the mortgage affordability checks three to six months before we apply for a mortgage.
Mortgage lenders now need to make sure you meet a new set of affordability requirements. If you're a first-time buyer, or last applied for a mortgage before April 2014, you may not be familiar with what these are. A few adjustments to how you're running your financial life can give you a better chance of passing these checks. Unfortunately, many applicants aren't prepared, and don't make changes in time.
What it costs us: Not meeting the affordability requirements could slow down your mortgage application during the time-sensitive homebuying process. At worst it can leave you unable to access the most competitive mortgage deals. In some cases, so-called "mortgage prisoners" have been told that they can't afford a cheaper rate than the one they're paying.
What to do: There are steps you can take to make sure you're prepared before you apply, including trimming your monthly spending and paying off credit card debt. Read our detailed guide and prepare in advance, instead of waiting until your first rejection.
4. House maintenance tasks – before they escalate
What we put off: Most of us have got at least one of these on the back burner. For example: that years-old silicone sealant in the bathroom that might just be letting a little moisture through…
What it costs us: At first, it's just a bit of staining – perhaps £100 for a repaint? Left much longer, you're looking at replastering – £300, perhaps? If the floor joists start to rot, you're facing thousands of pounds of work. Putting off house maintenance tasks could mean that the costs snowball and become unaffordable, potentially even affecting the value of your home.
What to do: Our suggestion is simply to follow one of the golden rules of financial planning: to set aside spare cash each month into an instant access savings account, so that you can take care of minor issues before they become major ones.
5. Locking down life cover – before you need it
What we put off: A startling 60% of people haven't got around to sorting out life insurance (AA). If you've got financial responsibilities, it's important to make sure they could still be met if you died. But for a lot of people it hasn't yet become a priority to sort out the cover you need.
What it costs us: Nothing now – but a potentially huge financial black hole if we die or get ill. It's normal to feel like we don't need life cover yet, but the fact is that if there are people who depend on your income, then there's a risk. Would your partner be able to pay the mortgage without you?
What to do: Taking out cover when you're still relatively young and healthy will be cheaper than waiting until later in life. What's more, taking the first step – comparing prices – takes less than a minute. Quickly compare quotes and you can start to find the right cover for your needs.
Compare life insurance quotes
Get personalised quotes from across the market, tailored to you and your needs.
6. Covering yourself for critical illness – while you're healthy
What we put off: Critical illness insurance – a bolt-on to a life insurance policy that pays out early if you have to stop work – is something many healthy working people endlessly put off thinking about. But at a time of peak responsibility, it could be a lifeline for your family if you were to be diagnosed with a critical illness like cancer, or suffer a heart attack or stroke.
What it costs us: It's unpleasant to think about, but you won't be able to get this cover after you've been diagnosed. Taking out cover would effectively allow you to claim your life insurance payout early if you need to.
What to do: When you take out a life insurance policy, it's easy to add critical illness cover. Our quote tool allows you to see how adding this cover would affect your life insurance premiums.
7. Getting travel insurance – before your departure date
What we put off: Most of us remember to get some cover by the time we actually step on the plane – but booking it this late means we miss out on an important aspect of cover.
What it costs us: Being covered for cancellation before you go. You could also miss out on the best deals by not giving yourself enough time to shop around.
What to do: Make travel insurance part of your holiday planning routine; sort it out as soon as you've booked your flights. Or if you're a frequent traveller, why not spare yourself the bother and get multi-trip annual cover?
There are also premium current accounts that offer year-round family travel insurance as a benefit, which can offer good value if you have children. This current account comparison tool from MoneySavingExpert helps you find one with the right benefits.
8. Prioritising your pension – while you're young
What we put off: It's easy to see why so many of us procrastinate with our pension: it's a pot of money that you can't see, can't access and won't need for decades. But if you are going to be able to afford to retire, these three steps are important:
Starting a pension pot (the earlier the better)
Reviewing contributions (ideally every year)
Making sure your pension is performing well and keeping you on track.
What it costs us: Ignoring your retirement plans for too long could leave you in a panic at 55, when you suddenly realise you're not going to have enough – and don't have the time to correct it.
What to do: Use our pension calculator to see whether you're on track, and consider increasing your pension contributions if you can afford to. If you get a small pay rise, how about putting the extra money towards your pension?
See the two charts that will persuade you to start investing early
9. Using your ISA allowance – before the end-of-tax-year rush
What we put off: Hands up if you've ever contributed money to your ISA in a last-minute dash at the end of March? There is another way...
What it costs us: You could be missing out on precious tax-free savings growth. The longer your money sits in a Cash ISA, the longer it has to benefit from compound interest (interest that in turn builds up interest). Likewise, more time your Stocks and Shares ISA has to grow, the more chance it has to recover from short term falls in the market and potentially generate compound returns.
What to do: To really make the most of your allowance, consider setting up a regular transfer into your ISA each month. If this isn't affordable, consider making a deposit every few months, rather than rushing to pay in a lump sum before the April deadline.
10. Planning ahead for expensive months
What we put off: Every year you know you're highly likely to spend a lot of money in December, not to mention months with a high concentration of family birthdays. Why not plan for it?
What it costs us: We all know that sinking feeling when you realise you've only got two paydays until Christmas...
What to do: Take the time to set some money aside in advance. If you have spare cash at the end of the month, or have a sudden windfall, consider putting it away for a time you know you'll need it. To avoid the temptation to spend, don't let it pile up in your current account: the most appropriate "safe place" for this cash is probably an instant-access savings account.
11. Moving your savings for a better rate
What we put off: Banks rely on customers forgetting when their introductory rates expire, or being put off by the perceived hassle of switching. Savings rates remain stubbornly low, and savings accounts are often "out of sight, out of mind" – so your money ends up growing at glacial rates.
What it costs us: In real terms, your money could be shrinking. Every year that inflation is higher than your after-tax savings rate, the purchasing power of that money is diminishing. Sticking with the same savings account for years could mean cheating yourself out of extra interest.
What to do: Regularly compare the rate you're getting against other providers to make sure it's competitive. If you're comfortable exposing your capital to risk, consider investing for the potential of better returns. To make sure your savings are no longer "out of sight, out of mind", consider using a tool like Moneyhub to give yourself a better overview of your money matters.
12. Switching your 0% balance transfer card before it expires
What we put off: Debt shifted onto a 0% balance transfer credit card tends to end up on the mental back-burner, so it's easy to forget when introductory rate expires – at which point any remaining balance should be paid off, consolidated or switched to a different card.
What it costs us: You could end up paying hefty interest rates, adding more to your debt. According to the UK Cards Association's calculator, if you maintained a balance of £1,000 over 12 months at a fairly typical 18.9% APR, it would cost you around £15 a month, or £175 a year in interest charges.
What to do: Of course, the ideal scenario is that you've paid off the balance before your introductory rate expires. If you haven't, then shop around for a new deal well in advance. Set a calendar reminder for the month before your deal ends.
13. Knowing your credit rating – before you risk rejection
What we put off: If you're applying for a financial product, especially one with an element of credit, providers will look at your credit record. So it helps to know roughly how good your credit rating is before you apply. Unfortunately it's a common mistake that we don't look at it until there is a problem with an application.
What it costs us: Getting rejected once wastes your time. Getting rejected too many times will make your credit rating worse, which can become a bit of a vicious cycle.
What to do: Check your file with a credit reference agency – Experian, Equifax and CallCredit are the main ones, and they all offer a free trial. This gives you time to correct any mistakes on your credit file (such as still being financially associated with a former partner) and, if necessary, take steps to boost your credit rating.
The bottom line…
It's all about planning.
Life admin looks daunting when it's all listed at once, but spreading out these little jobs over the year will make them quick and painless, as well as helping you make the most of your money.
Are there any we've forgotten? What life admin jobs are you procrastinating on this week? Let us know – send us a tweet @YourWealthUK.