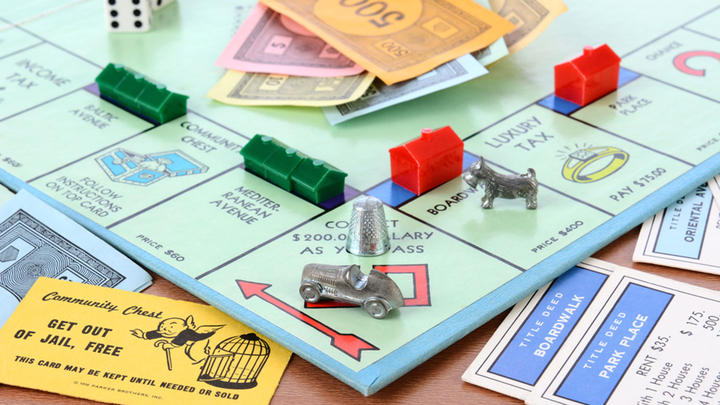 Monopoly: the game that can bring families together – or tear them apart. Over 275 million sets of the iconic board game have been sold over the last 80 years. Love it or loathe it, can it teach us a thing or two about investing in the real world?
1. Play the long game
Monopoly requires a strategy that focuses on the long term. The same goes for investing.
The winner in Monopoly is rarely the person who progresses around the board buying every property they land on. Instead, you need to think about which assets will help you carry out your strategy on the road to meeting your goals.
2. Don't put all your eggs (or hotels) in one basket
Buying Park Lane may seem like a good decision, but putting all your eggs in one basket won't get you very far. What if no-one lands on the space?
Having a good distribution of Monopoly assets across the board (don't neglect those utilities!) increases your chance of good returns overall.
However, you should also beware of spreading yourself too thinly; you still need to be able to afford a few hotels.
When investing, the process of spreading your money across different assets or markets is called diversification. It means creating a balanced portfolio by investing across different asset classes or market sectors in order to reduce some types of risk.
Just getting started?
Get the basics of investing under your belt with our guide to investing for beginners
3. Always have an emergency fund in cash
You never know when you're going to land on Mayfair and need to stay in someone else's hotel, or when a Chance card will hit you with those pesky parking fines.
If you've been buying up every property you come across without keeping an eye on your rainy day fund, you could be just a roll of the dice away from bankruptcy.
In the real world, investing means committing your money for the long term. You won't always be able to sell up if you need cash – and if you do, you might be forced to accept lower returns than you hoped for. That's why you should keep a cash savings pot in easy reach to cover unexpected expenses or a change in your circumstances.
4. Keep an eye on your spending…
If building that hotel means eating into your emergency fund, you're taking a big gamble. Land on the wrong property and you risk bankruptcy. Wait until you've passed Go or earned some more rental income first.
Once again, it's about having a long term strategy in place rather than going all out for short term gains.
Once you've got an investment strategy in place, it's a smart move to monitor your income and outgoings. Apps like Moneyhub make it easy to do this by syncing your financial picture across all your accounts. That way, if your circumstances change, you can make adjustments to either your spending or your investment plan.
5. Get the best deal you can
Monopoly can bring out the tough negotiator in all of us. Who hasn't tried to push a distressed seller into accepting a lower price for those coveted railway stations?
In real world investing this plays out in the matter of fees and charges, which can have a profound effect on your long-term investment returns. For investors in funds, those annual management charges deserve your scrutiny. And for every type of investor in funds or shares, there are platform charges to consider – which is why we built a tool to compare platform charges for different types of investment account.
So the next time you sit down at the Monopoly board, remember to focus on the long game. To get started with investing, read our Beginner's Guide.