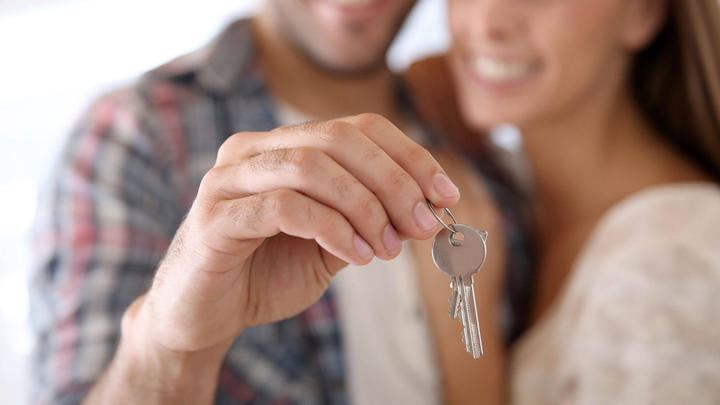 A new government-backed savings product launches today, aiming to help first-time buyers onto the property ladder.
As part of the government's drive to boost home ownership, the new Help to Buy ISAs are on the market from today. The basic premise is that savers will be rewarded by the government for saving towards a deposit on their first home.
The product works similarly to an ordinary Cash ISA – in that returns are protected from Income Tax and Capital Gains Tax (CGT) – but there are a few extra conditions:
After an initial deposit of up to £1,200, savers will only be able to put in a maximum of £200 a month.
Once the ISA contains at least £1,600, it can be used to help fund a house deposit.
If the money is used to buy a home, the saver will receive a 25% bonus from the government – capped at £3,000 per ISA saver.
So if you're looking to buy a home with a partner, you could receive up to £6,000 from the government towards your deposit.
But what about the interest rates?
Most savers are painfully aware of how low interest rates currently are. Even the most competitive Cash ISAs are paying interest below 2%, making it hard to imagine building up a house deposit without exposing at least some of your capital to investment risk.
However, the first rates to be announced for the new Help to Buy ISAs are surprisingly high. Halifax is offering 4% (variable), with Nationwide offering 2% – plus cashback of up to £1,750 for savers who go on to take out one of their mortgages. Natwest is also offering 2%.
If Help to Buy ISAs prove popular, it could be that competition between lenders produces better rates for customers; banks will want to use the opportunity to win over potential future mortgage borrowers. However, the average first-time buyer deposit is now £36,000. Even with a rate of 4% and a government top-up, many savers will still need help.
Katie McMahon, financial product manager at YourWealth, had this to say:
With average first time buyer deposits so high every little will help. It's always sensible to make the most of your individual tax free savings allowances and the "free" top-up may encourage savers where possible to maximise this allowance.

I'd prefer to see the saving limit match the standard ISA limit. However, the lower limits may mean that these encouraging headline rates may be able to continue. With only a few lenders offering the option to continue contributions to an ordinary cash ISA I'd like to see the rates continue to reflect some of the restrictions to allow savers a valuable choice of options in the market.
Saving for a deposit?
Raising a deposit can be difficult, but there are a few steps you can follow to maximise your savings:
Use your ISA allowance to protect your savings from tax – although some longer term cash savings products may offer ISA-beating returns even after tax.
Consider investing: if you can give up access to your capital for at least 5-10 years, investing could offer higher potential returns than cash savings. Read our guide to investing for beginners.
When calculating how much you need to save, make sure you factor in other costs of getting a mortgage on top of your deposit.