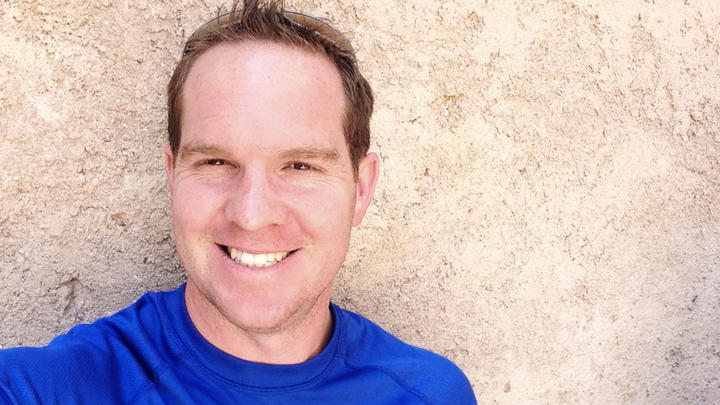 How do you grow a business from the ground up? We sent Angelique Tonge to meet this week's featured MoneyHub user – successful entrepreneur Brad Askew – and find out.
MoneyHub is a tool that helps you to track and anylyse spending and plan ahed for the future, all in one place.
We meet in Brad's vegetable patch, towards the rear of a rather large suburban garden. Rainbow chard is his favourite vegetable because, in case you didn't know, "it grows faster than the slugs can eat it". Brad has a bit more time to spend outdoors of late, having sold his legal business. I'm curious to know how such an ordinary family man (Brad is a father of three) managed to grow such an outstanding career, and wonder what he's planning next.
Ange: Hi Brad! Can you tell us a little bit about how you got started?
Brad: I used to practice as a solicitor and then in 2007 I started my own company, something I've always wanted to do. It was called Everything Legal and the vision was to help people find the right legal advice - using the internet to help people access legal information. The idea was to do in law what I saw in other industries such as finance. I started a number of legal websites and developed them, the most famous being LawontheWeb.co.uk – it turned out to win a few awards actually and later became one of the biggest legal websites in the UK. That was all very fun! Because we were so successful in the online law [industry] we were approached by DAS insurance, the largest legal insurance company in the UK. The company merged with DAS in November 2011 and I continued as the managing director of the company.
A: That does sound like fun actually. But how do you choose what type of people you bring into a business? What do you look for in employees and partners?
B: I think the most important thing is to have a shared vision, it's not 'what' you build but 'why'. I like to find people who share the vision - people who have good hearts, are enthusiastic and passionate .The vision doesn't fit in with the people, people fit in with the vision. The minute you lose the vision, you die.
A: And how do you determine what vision you'll run with? What's your vetting process for what you think is worth your time and investment and what's not?
B: The advice I've been given by older, wiser people is to focus on my gifts, what I'm passionate about and then the needs of the world around me. If you can find where the intersection lies between what you're good at, what you're really passionate about and something that serves people, then you have the makings of a great business. If that is what you're saying yes to then by default you're saying no to things – I have another idea involving motorhomes at the moment that doesn't tick all the boxes, so it has to go.
A: Tell us about your latest project.
B: I'm working on Everyone Legal and want to help people access justice who sometimes can't because legal advice is too expensive. The goal is to create new ways to help people access legal advice quickly, simply and cheaply. I also run the Tenancy Agreement Service that helps landlords and tenants with legal matters.
A: This sounds like something with a good social purpose too?
B: The entire industry is built around how law firms can increase their billing, whereas I'm trying to be all about the customer. I want to see if we can grow this around the needs of users. If it can make a profit, that's great.
A: What core skills have you found most useful? A lot of people believe that entrepreneurs need an MBA or need to go to a business school. What do you think?
B: I've never done a business course in my life! I read a lot of books. By reading I learn a lot from people I'll never get the opportunity to meet in real life. Also building relationships and building trust, because people work with people they like, not necessarily those who offer the best deal. Business is actually more relational than we think. And being a dreamer – it keeps the heart alive and inspires people. People want to know they're on the right team. Being a dreamer doesn't necessarily mean you're off with the fairies, but rather that you can inspire people to help you execute the vision.
A: Do you ever have those "What on earth am I doing?" moments of self doubt? How do you tackle this?
B: Entrepreneurs are generally an optimistic bunch – otherwise they would keep the security of their day job! I surround myself with other entrepreneurs who have [been there] or are walking down the same road and understand how you deal with discouragement and failure. When you start a business, nine out of ten things don't work so the trick is to keep innovating, keep testing, keep experimenting. I try take the pressure off, and recognise that all I have are some basic assumptions which may be right or may be wrong. If I'm wrong, that's ok. The trick is not to lose too much time or money proving they're wrong but to find out quickly. Treat it in the same way people test drugs in a laboratory – be scientific.
A: What would you say are the most important qualities for an entrepreneur to have?
B: The thing an entrepreneur needs is a dream and courage because it can be lonely and wobbly. If you look at the stats most people fail. You have to be mad don't you really? That's why you need to be passionate. If someone is launching a business and it's a boring one that they don't really care about, why on earth would you do that?
A: Are there any fellow entrepreneurs whom you regard highly?
B: I'm not interested in any of the celebrities but people who are local to me. My friend Jon Bonnick runs a company called Intelligenti, a tips and tricks for iPhone app with millions of downloads. Lots of people I know are just passionate whereas he's so analytical. I really admire the way he uses data to make decisions; I've learned that the detail is essential. Toby [Hughes, CEO of YourWealth.co.uk] has been a great entrepreneur friend too. We've been going for coffee at least once a week for the last five years for mutual encouragement, brainstorming, dreaming – just mates sharing tips the whole time to energize and help each other.
A: Speaking of YourWealth.co.uk, what do you like about MoneyHub and find useful?
B: I like the dashboard as I have many accounts and credit cards and it's the only place in the universe where I can can see everything in one place and make sure I move money to the right place at the right time.
A: Is there anything you would like to see added or changed?
B: I would love it if I could use my iPhone to capture work expenses whilst I'm out and about using the camera. If I could take photos of receipts and upload them to Money Hub that would be brilliant as that is where a lot of my missing money goes – cash spent on coffees, cabs and sarnies.
A: How do you keep your work/life balance, especially with three boys at home?
B: The reason I started my business was because I had a 6 month old boy and I wanted to spend more time with him. My entire business model was based on recruiting people who are better than me, so I can say I haven't done a full day's work since 2007. I go to work at a normal time, am regularly home by lunch time and take long holidays. My job is to control vision and strategy and to take people for hot chocolate. I think it's a fault to work 18 hour days because those people are often not willing to recognise that they're surrounded by other people who are talented. If the business cannot flourish without me there, I'm obviously not leading very well and it deserves to fail. When people come to ask me questions, rather than try and solve it I'd say, "What do you think?"
With the boys, it keeps you very grounded you know, playing in the sand with the kids and doing normal family stuff. Their stress of being at school and learning to read is far greater than my stress. My job is to turn off my mobile phone and not to be just physically present but also emotionally.
A: What are your best productivity tips or tools that help you get things done?
B: I use a google task list - its on my iPhone, on my gmail; its everywhere. So when I think of something, I write it down so that when I'm working I prioritise the list and always start with the hardest thing. I do what I don't want to do first as a discipline. There's that quote, "If you've got six hours to cut down a big tree, the wise man spends the first four sharpening his axe." Be proactive and work smart, not hard.
A: Finally, since most people don't know many entrepreneurs, how do you introduce yourself at dinner parties or the school gates?
B: The honest answer … I have a very popular wife! I just say, "Hi, I'm Hazel's husband."
A: Thanks for sharing your insight Brad, and all the best with your new project! You'll also be happy to know that our developer team love your suggestion of scanning receipts into MoneyHub–we'll be sure to keep you updated.
Are you a MoneyHub user? Would you like to share what you're up to? Get in touch with our editor at lucia.harris@yourwealth.co.uk or drop us a tweet!