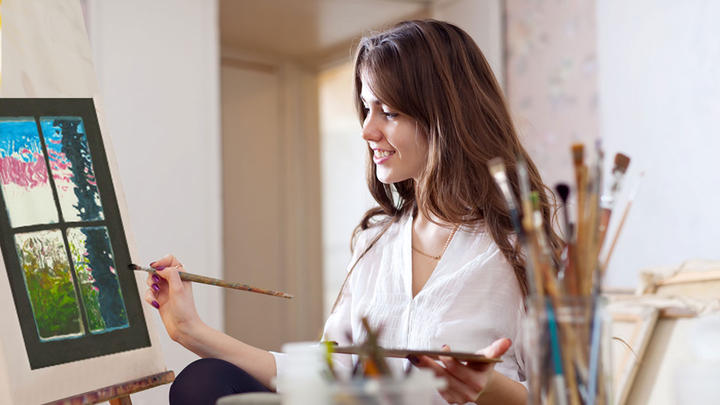 Most of us have a passion or a dream, but it can feel like there simply isn't enough time in the day to follow it in a meaningful way. We've been thinking about ways you can focus your vision and free up extra time, so that you can build the life you really want.
Work out your priorities
The first step to following your passion is working out what it is. The possibilities may seem endless – and not necessarily in a good way. Taking some time to work out exactly what you want can help you to get some focus, so that you can make a plan and act on it. Try these techniques to narrow your field:
Embrace your inner child: children are more in touch with their imaginations than (most) adults, which allows them to try out all kinds of possibilities; they can be a firefighter, an astronaut and an acrobat all before lunch! When trying out something new, try to do so in a spirit of playfulness instead of worrying about the practicalities – resist the urge to get "grown-up" and serious about something straight away
Challenge your assumptions: sometimes our own thoughts and beliefs can hold us back. Is there something you've always wanted to do but thoughts like "I'm not clever/talented enough" or "I can't make a proper living doing that" stop you in your tracks? Try challenging these thoughts and replacing them with "what would I need to do to make this work?"
Write your personal manifesto: it might sound strange, but sitting down and writing a "manifesto" could help you to identify your priorities. It could be as simple as a bullet-point list including things like the hours you want to work, what you want your main focus to be, where you see yourself in 5 years time etc. By the time you're finished you should have a clearer picture of what you want!
Tip: while you're thinking about your personal manifesto, why not make a financial manifesto too and see how your personal goals align with your finances?
Make time for yourself
When you've worked out what you want to do, you need to set aside some time to do it. Try these tips to add extra hours to your day:
Reclaim "dead time": so much of our day is lost in time spent waiting, travelling or breaks. Why not make your commute worthwhile by using it to read a book or plan a project you're interested in? You could bookmark useful articles to read while you're waiting for the dinner to cook, or spend half an hour on your hobby once the kids are in bed.
Cut out activities that aren't worthwhile: after a hard day's work, crashing out in front of the TV can be tempting. But wouldn't it be more fulfilling and valuable in the long term to spend that time pursuing something you're really passionate about? You could watch your favourite programme later as a reward for putting in some effort towards your goal.
Streamline your "life admin": there are some jobs that just have to be done, but could you do them faster? Organising your finances can feel like a big job–which is why so many of us put it off–but with our award-winning MoneyHub technology it can be simple. With your entire financial universe in one place, from budgets and bills to investments and long term goals, it's easy to check up and make adjustments in a flash – giving you more time to do what you really want to do.
Make your passion your career
During our working lives you may spend the majority of your time at work, so if you want to spend more time on the things you love, your job could be a good place to start! It may be that you've never thought of your passion as a "viable career path" but perhaps you just need to think a little creatively? Could you take on extra freelance work outside of 9-5 job, or go freelance altogether to pursue your passion? Read our interview with one woman who did just that and never looked back–but don't forget to make a plan and a backup plan first!
If you decide you do want to go freelance, or set up your own business, make sure you plan your finances carefully; log into MoneyHub to check that you have a healthy rainy day fund, and adjust your monthly budgets to account for a change in income.
Perhaps freelance work isn't an option for you, or your passion doesn't lend itself to full-time work. Are there ways that you can incorporate a little of what you love into your day job? If you look hard enough, there are ways to be creative in virtually any career. Why not bring the skills you've learned outside of work into the office, and see where it leads? Your boss may appreciate a bit of fresh thinking, and you could really make your mark on a project.
Making the most of your time can free you to pursue your passions, develop new skills and reach for the life you want.