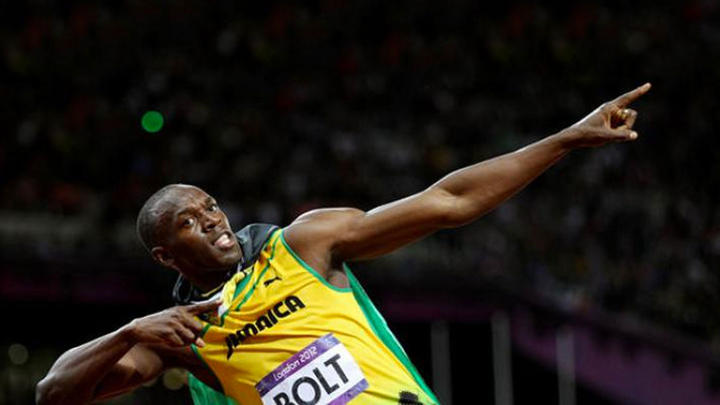 He's won six Olympic gold medals, eight world championship titles, and has been called the fastest man on the planet. Clearly, Usain Bolt's strategy is working but what could we learn from his attitude to goals and success.
In an interview in 2013, Bolt revealed that goals are what keep him going:
"You've got to set goals in life. If you want to be the best and you want to strive for more, you've got to set goals.
"For me, I try to set the highest standard that I can for myself, and that's what keeps me going because I'm a very competitive person.
"I set small goals and then work my way up and set harder and harder goals, and the higher the goals get, the harder it is, so if you continue getting these goals then the greater you'll be."
We've found some other words of wisdom from the world's fastest man that could help you to achieve the things you want.
1. Make your goals flexible
Sometimes things don't work out the way we planned, and no one knows this better than Bolt. As a boy, he wanted to become a world famous cricketer and excelled at the sport; he says in his autobiography Faster than Lightning:
"In cricket, when I bowled, I could come down on the wicket hard, with speed and I was quick in the field. At the age of eight, I was taking wickets of cricketers a lot older than me, guys that were 10 or 11 years old.
"It wasn't long before I had opened the batting for Waldensia (school) a couple of years earlier than most kids even made the team,"
Bolt's teacher, believing his character was more suited to track and field, encouraged him to take up running instead – and the rest is Olympic history.
If things take an unexpected turn, or you simply change your mind about what you're aiming for, don't be afraid to change your plans. If you've set up a goal in MoneyHub, you can change it in a matter of seconds, as well as planning ahead for the consequences.
2. Be realistic
Bolt knows that he won't be on top form forever; he told a news conference that he plans to retire after the 2016 Olympics. That's not to say that the 100m superstar is underestimating himself – he simply wants to finish at the top:
"If I want to be among the greats of [Muhammad] Ali and Pele and all these guys I have to continue dominating until I retire.
"If I'm in great shape and I go there and do what I have to do, I think it would be a good time to retire on top and having dominated for so long."
It's important to make sure your goals are achievable, without selling yourself short.
3. Believe you can win
When it comes to setting your goals, a little self-belief can go a long way. If you don't really believe you can achieve something, how likely are you to put in the effort it takes to get there? Shortly before the London 2012 Olympics, Bolt told the Guardian:
"This will be the moment, and this will be the year, when I set myself apart from other athletes in the world," adding, "A lot of legends, a lot of people, have come before me, but this is my time."
Fortunately, he can walk the walk as well as talk the talk, having become the first man ever to hold the world record in both the 100m and 200m races at the last Olympics. Of course, self belief isn't all you need to achieve your goals – but if you put in the hard work, a healthy dose of Bolt-esque self-confidence (and perhaps a power pose or two) could well be the push that takes you over the finish line.
Achieving a secure financial future is a marathon not a sprint, and MoneyHub is with you every step of the way; why not log in today and see what you can achieve?