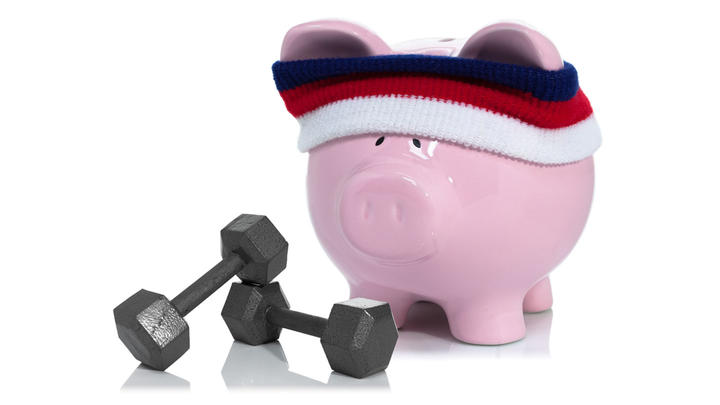 Punching bags at the ready, leg-warmers on and 'Eye of the Tiger' on repeat - it's time to get physically, mentally and financially fit for the Summer!
Step 1 - could you ditch the gym?
Far from being counter-productive, the chances are that now the sun's out (tentatively) you're spending more time outside socialising and enjoying the longer evenings. If you've finished any initial gym contract period, you might be able to cancel your membership in favour of getting on your bike or running round the park. If you're still within your contract period, ask about pausing or freezing your membership. You might still pay a nominal fee over the summer, but you may be able to save quite a bit by taking your workout outside. You could put the money in a savings account or ISA and watch it add up.
Step 2 - eat well
Diets may or may not work for you, but the warmer months are a great excuse to indulge in some al fresco dining. Craft your dream salad, organise a BBQ, or go for a walk in search of the perfect Sunday brunch or sundowner tipple. Bear in mind that the heat often brings a slight loss of appetite - you may find you don't want to eat heavy meals. Loads of fruit and veg come into season creating the perfect opportunity to eat your way through the colour chart. If you're planning to socialise and eat out more, you might want to try factoring this expense into your budget over the Summer months. With the MoneyHub, you can add custom categories and see how your spending matches up, so you can see at-a-glance whether the next meal out could take you over-budget.
Step 3 - step back
As well as Wimbledon, cricket and the World Cup, Summer's also a time to bask and relax. Find a shady corner in a park and read a book, or simply while away a day doing 'nothing'.It could be great for your mental health to de-stress and step off life's great treadmill. The same goes for your finances. You could invest some of your Summer 'me-time' in pausing and taking stock of where you are with your finances as we near the halfway mark. Is your everyday spending allowing you to pay off any debt fast enough or save enough to achieve what you want this year? Have your priorities changed for how you use your money? And are there any key financial milestones coming up to be aware of? MoneyHub provides complete visibility over all your finances in one handy place - it could be a good place to start.
Step 4 - remove the couch potato
With all the rain of the Winter, many of us may have filled our free time over the past six months with indoor activities. But now that summer's here could it be worth pausing or cancelling any services that you're unlikely to use such as any TV or media subscriptions you have? You could save almost £24 by cancelling your Netflix subscription for 4 months - enough for an alfresco dinner or to top up your savings. To quote a well-known supermarket chain, every little helps. You might also want to turn your thermostat down or turn your heating off during the warmer months - according to Which?, you could save £55 a year just by turning the thermostat down by 1°c. Why not skip the bus, train or car and walk or cycle instead? 40% of the car journeys we make are under two miles, according to recent research. That's a comfortable distance to cycle or walk. You could save around £23 a month by ditching the car for these shorter distances, according to green charity SusTrans.
Step 5 - take a health check
If you're over a certain age you may be asked to go to see your local nurse, doctor or pharmacist for a periodical health check. It's good to take stock of your health, both mentally and physically, every once in a while - a sort of MOT for your well-being. A checklist could be helpful for this - and you could apply a similar one to your finances. We've put together a few 'financial health checks' for different stages of life to help you out:
Making your first financial commitments
Starting or growing a family
Building for retirement
In retirement
MoneyHub can help you track your progress towards important financial goals.