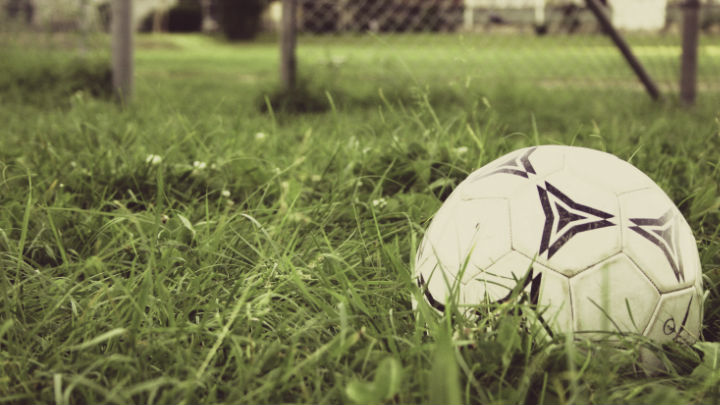 You wouldn't dream of sending out a football team with eleven strikers.
Similarly, it would be reckless to choose only high-risk growth funds for your investment portfolio.
The smart move in both scenarios is to look for a blend of styles that can cope with varying conditions and come out triumphant in the long run.
With that (and the upcoming Euro 2016 tournament) in mind, AXA Wealth's Head of Investing Adrian Lowcock nominates his dream line-up of top fund managers, with reasons for each selection.
Goalkeeper
The goalie needs a safe pair of hands to get you out of trouble when all else has failed. It makes sense that this position is reserved for a quality bond fund manager who provides security.
Goalkeeper: Ian Spreadbury, Fidelity MoneyBuilder Income fund.

Ian is a natural fit for this position: more in the mould of Joe Hart than David James, this manager will provide some security and structure to your portfolio. Don't expect any heroics or flashy play.
Defenders
The main role for these funds is to protect your capital when markets are under pressure but they also need to be capable of scoring good returns when conditions are right. As with any team, it's vital that they work well together.

Left-back: Scott Theil, Blackrock Fixed Income Global Opportunities
Given current market conditions we feel a flexible conservative player able to deliver even in difficult conditions is essential to portfolios. No doubt the England team manager, Roy Hodgson, probably wants to see the same positive attitude from Danny Rose this summer.
Centre-back: Guy Stern, Standard Life Global Absolute Return Strategies
A complex technical fund which can make money from selling shares as well as buying them, this fund provides strong defensive qualities to a portfolio. With a global mandate, he also looks at the bigger picture so is well prepared for any eventuality. This fund could draw comparisons to Gary Cahill's technical skill.
Centre-back: Iain Stewart, Newton Real Return
A strong defence is essential when investing and the primary focus of this fund is capital preservation. Stewart is a very experienced manager running a flexible unconstrained portfolio. Tactically speaking, like Chris Smalling, he is in the right place at the right time.
Right-back: Matt Jarvis, Legal and General UK Property
Yes – there's also a footballer named Matt Jarvis. But that isn't the reason for this selection. Commercial property is a good diversifier from traditional equity investments and has historically generated a decent income whilst providing some downside protection and defensive characteristics. However, Jarvis has the ability to use derivatives and property shares, giving him greater flexibility and – like Nathaniel Clyne – the potential ability to drive growth.
Midfielders
Here we are looking for fund managers who are able to deliver growth, provide diversification and stability to the portfolio. Unlike the defensive elements of a portfolio, managers here need to be able to take on more risk. However, such funds should not be overly aggressive and should act as a core investment element.

Defensive midfield: Richard Colwell, Threadneedle UK Equity Income
Equity income takes a more defensive approach to investing but with the aim of delivering results and focusing on the long game. Just like Eric Dier, this fund can sit at the back of a portfolio and do plenty of hard work, with dividends driving performance.
Left midfield: Neil Gregson, JPM Natural Resources
I realise including a commodities fund might raise an eyebrow – this sector has been volatile and performance has been poor in recent years. However, diversification is essential in a portfolio. Gregson invests across a wide range of commodities and tends to focus on small and mid-sized companies. Performance is therefore likely to come in short bursts but is likely to be volatile, not unlike Raheem Sterling.
Right midfield: Kevin Murphy, Schroder Global Recovery
A stock picker who looks for growth in companies undergoing corporate recovery. Murphy aims to deliver growth by investing in companies that have suffered severe short term setbacks – but like James Milner, he will not take unnecessary risks.
Attacking midfield: Paul Spencer, Franklin UK Smaller Companies
Smaller companies provide access to the kind of growth that is rarely achievable for large companies. Spencer is a pragmatic manager able to deliver strong performance over the long term. Smaller companies can add performance to a portfolio and provide additional growth, similar to Ross Barkley's ability to run with the ball.
Strikers
Here we are looking for the goal scorers, the areas where growth is most likely to come. These funds are riskier and are more susceptible to market movements, but their aim is to provide growth to the portfolio. This doesn't mean the managers take unnecessary risks, but they are riskier (and potentially more injury-prone) than other members of the team.

Angus Tulloch, Stewart Asia Pacific Leaders
Asia Pacific continues to grow much faster than the west. While the outlook for the region remains positive for the longer term investors have faced several tough years. This is where experience really matters and Angus Tulloch is a Wayne Rooney-like veteran when it comes to investing in Asia's volatile market.
Ross Teverson, Jupiter Global Emerging Markets
Ross's fund is suited to the fast-paced and dynamic Emerging Markets. He lives and breathes an unconstrained approach to investing and runs a high conviction portfolio – each holding has to justify its place in the portfolio.
What would your dream team be?
Every armchair football fan has their own idea of England's (or Wales', or Northern Ireland's) strongest starting eleven. We all like to think that we could improve on the manager's selection from time to time. Now, if you've given that amount of thought to EURO 2016, could your portfolio benefit from a similar level of scrutiny?
After all, building a DIY investment portfolio has a lot of similarities to selecting a football team for a tournament:
You know your players' strengths and weaknesses – all backed up with stats, of course
You have a goal, and a range of opponents to content with
There's always possibility of setbacks – refereeing decisions, for example, can be as unfair or ill-timed as global recessions
But through all these eventualities, the strongest all-round team expects to play Germany in the final.
So if you'd make a good armchair manager, you might find a lot to like about DIY investing.
Adrian sums up his line-up as follows:
Investing in only one region, asset or sector is a risky strategy and is likely to end up harming the returns you get on your investments. Having a portfolio of diverse investments is one way to reduce the risk of investing. A well-constructed portfolio can help reduce the volatility that comes with investing as well as boost the returns whilst taking less risk. The comparison to a football team highlights the importance of investing defensively and preserving capital whilst also ensuring there is some room for capital growth where possible.

— Adrian Lowcock, AXA Self Investor
Choose an investment platform