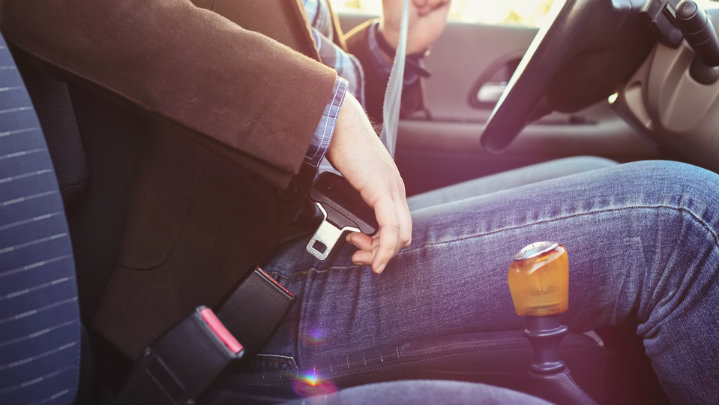 The outright lowest initial interest rate on a mortgage, on any given day, is rarely a fixed rate. It's usually one of the variable kinds of mortgage: tracker, discount or lifetime variable rate.
(Compare the lowest initial rates for tracker mortgages with those for fixed rate mortgages today, and you should see what I mean).
But there's a particular reason why I have a fixed rate mortgage… and I suspect it's also why an increasing number of homeowners in the last few years are switching to one.
The main reason? Peace of mind.
If you believe bank rates may rise, and you aren't comfortable with the prospect of your monthly mortgage payments rising at short notice when they do, you're likely to prefer a fixed rate.
However, we've had low base rates for six years now – and for most of that time, the threat of rates going back up (which would, after all, be a return to the norm) has never really been far from borrowers' minds.
So if fixed rate mortgages really are having a resurgence, why now?
This 'dover sole' chart from Savills proves the trend…
When Savills' director of residential research in Scotland, Faisal Choudhry, tweeted this line chart of the total number of fixed and variable rate mortgages in the UK, it caught my eye.
And it wasn't just because the shape of it resembled a fish:
It shows something significant: that after years of not feeling the pressure to lock in their interest rate, homebuyers are now seeking the security of fixed mortgage payments.
Essentially when you lock in a mortgage rate you're insuring against your monthly mortgage payments rising unexpectedly – and you're paying with an "opportunity cost" of enjoying lower, but not certain, mortgage payments for a period of time.
When you opt for (or stick with) a variable rate, you're betting that a rate rise is some way off.
This chart seems to indicate the tide has turned. Fixed rate bottomed out in popularity some time around 2012, and has been climbing ever since.
This chart looks at all outstanding mortgages, not just new ones issued – so there is a built-in lag to the data. Chances are the trend has emerged with new mortgages a while earlier.
If the trend continues, fixed rate should soon overtake variable rate to become the most popular type of mortgage overall, for the first time since 2008.
…and this mortgage rate chart from Moneyfacts suggests why
If the above chart suggests that homebuyers no longer trust mortgage rates to stay low for the foreseeable future, this chart tells another aspect of the story.
Namely, that the opportunity to lock down a low rate is better now than it's been for a long while: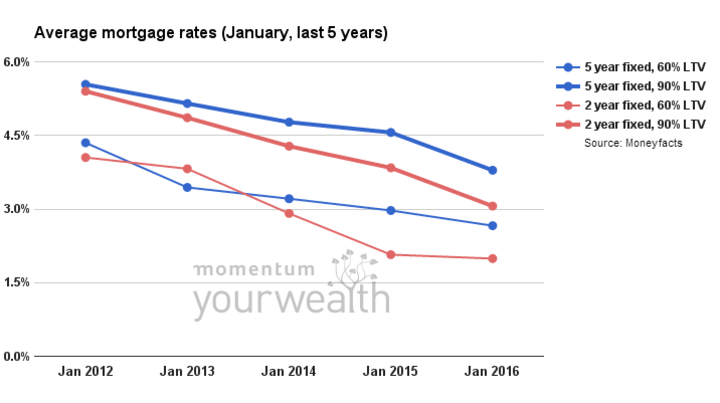 Like with any trend it's difficult to say with certainty where it's going to end. As stock market investors like to say, it's a brave person who'd call the bottom (or top).
But to me, two interesting points stand out from this chart.
You can fix your 90% mortgage for 5 years at a lower rate (3.79% on average) than you could fix it for 2 years just last January (3.84%); and
You can now have a 2 year fixed rate at 90% LTV for a lower average interest rate (3.06%) than you could find for a 60% LTV (much lower risk) mortgage in January 2013.
To fix, or not to fix?
Clearly, there's been a lot of people wrong about the timing of a rate rise over the last six years.
It's hard to get this right. It doesn't help that we're in a strange time, historically speaking. For decades, the Bank of England base rate has been much higher than now, by several percentage points. I cannot find a single commentator who was predicting in April 2009 that the 0.5% base rate would last as long as it has – which is not surprising, because it is unprecedented. Before this period, the longest period of unchanged interest rates was 18 months, which lasted from March 1952 until September 17 1953.
So unless you need the security of fixed payments, choosing a fixed rate mortgage is essentially a bet that rates will go up, and soon. But that bet could yet turn out to be wrong.
All we know for sure is what these two charts are telling us:
The fixed interest rates available on mortgages today have been trending lower for the last four years.
And the number of mortgage customers who are choosing a fixed rate has been trending higher over the same period.
If you have an existing mortgage, and would like to hop onto a fixed rate, take a look at today's available deals here.