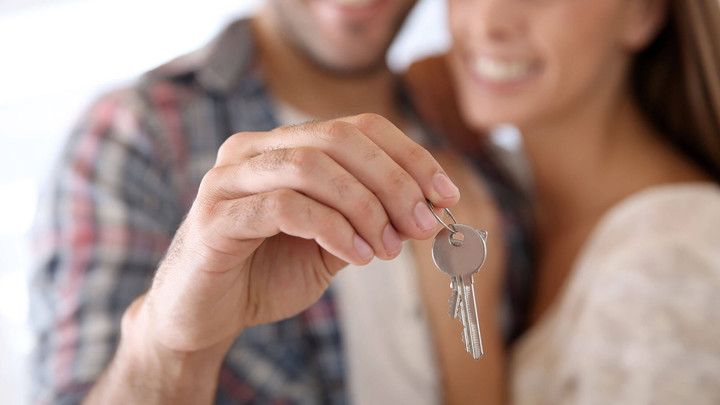 We've been wondering when this might happen.
The sub-1-per-cent fixed rate mortgage is now a reality.
There have been 0.99% tracker mortgages before. But the trend on this chart has reached its next obvious milestone, and the 1% fixed rate barrier has finally been breached by this deal from HSBC:
It's the lowest 2-year fixed rate the UK mortgage market has seen in living memory.
However:
It might not be the cheapest mortgage for you. You know, it might not even be the cheapest HSBC mortgage for you.
Let me illustrate…
The 0.99% mortgage versus the no-fee mortgage
First, let's assume you're remortgaging and have at least 40% equity in your home, because this deal is only available up to 65% LTV, and the one we're going to compare it to has a maximum 60% LTV. You could also be a first-time buyer with deposit of at least 40% of the home's value (unlikely, I know). The length of mortgage you're looking for is 25 years.
Now, the fee on the 0.99% fixed rate mortgage is £1,499.
That above-average fee front-loads the cost of this mortgage significantly. Is it worth paying £1,499 to enjoy such a low rate of interest for two years?
It depends how much you're borrowing.
For comparison, HSBC also offers a fee-free two year fixed rate mortgage, with a starting interest rate of 1.79%:
With both these deals, since your mortgage payment will be fixed for just 24 months (after which, it reverts to a rate the bank can vary at any time – currently 3.94% APR), the only sensible way to compare this to other mortgages is to add up the total borrowing cost over that two-year period: fees + interest.
This is sometimes called a true cost comparison. Here's how the comparison works out for both these mortgages:
0.99% initial rate
1.79% initial rate
Amount of
mortgage
Monthly
payment
Fee
Total cost
24 months
Monthly
payment
Fee
Total cost
24 months
Difference
over 24 mth
£100,000
£376.41
£1,499
£10,533
£413.70
£0
£9,929
-£604
£125,000
£470.52
£1,499
£12,791
£517.13
£0
£12,411
-£380
£150,000
£564.62
£1,499
£15,050
£620.55
£0
£14,893
-£157
£175,000
£658.73
£1,499
£17,309
£723.98
£0
£17,376
£67
£200,000
£752.83
£1,499
£19,567
£827.41
£0
£19,858
£291
£225,000
£846.94
£1,499
£21,826
£930.83
£0
£22,340
£514
As you can see, you'd need to be borrowing £175,000 or more to be any better off after two years. And you'd be paying a chunk of that cost upfront in the form of that fee.
Meaningful savings with the 0.99% mortgage don't start until you're borrowing £200k or more. At 60% loan to value, that means your home would need to be valued at £333,500 or more, and you need to have £133,000 deposit or equity.
Who can benefit from the 0.99% fixed rate mortgage?
For homebuyers with more valuable homes and significant equity, it could be an exceptional deal – provided that:
You have £1,499 available in your cash flow (plus the other costs of getting a mortgage)
You have six-figure deposit or equity in a home worth more than £300k
You can face only being sure of your monthly mortgage payment until 2018 – at which point the interest rate could rise around 3%, meaning at least a £300 jump in your monthly outgoings
For smaller borrowers, this serves to illustrate why you can't trust the initial rate as a buying signal: it often means a large fee.