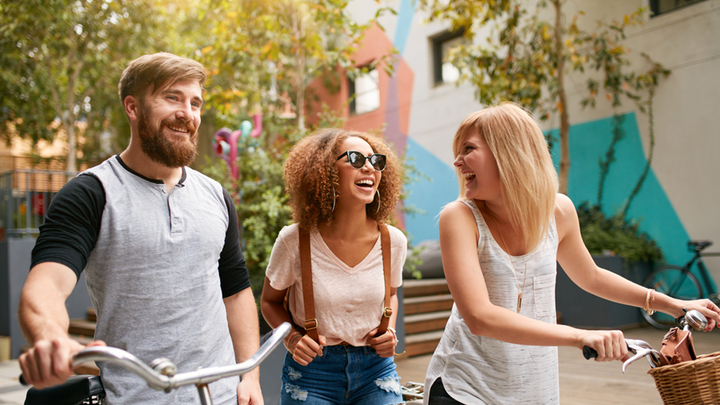 Your twenties are an exciting time, and a decade that lays the foundations for your future. You're taking your first steps in the world of work, living away from home and trying new things. However, many of today's twenty-somethings are finding themselves caught between a rock and a hard place financially.
What are the challenges facing the Millennial generation, and how can you give yourself the best chance of achieving financial wellness at this crucial stage?
Where does your money go?
Use Moneyhub to track your spending by category, and see how small changes can make a big difference.
The housing trap
For most people, owning a home is an important step towards financial security. However, getting on the property ladder is easier said than done. According to HMRC, the average salary for 20-24 year olds is £16,400, with 25-29 year olds earning an average of £22,700. In January the average house price reached £196,829 (Nationwide House Price Index).
Saving up a 10% deposit of just under £20,000 (plus extra for fees and surveys) is a tall order when you're paying record high rents at the same time – tenants in Brighton and Bristol saw an 18% increase in rent last year, with Londoners now spending two thirds of the average income on rent.
Many people rely on help from their families to buy their first property. Cloe, aged 28, said:
"To buy our house last year we had to basically beg, steal and borrow all the money we could from our families, despite both having good jobs. At the moment, we are currently paying back our huge mortgage as well as paying back various family members. However, with house prices rising we thought it would be sensible to buy a house before we got priced out completely.
"We were fortunate that we could do that, because there was no way that we would have been able to save as well as pay rent."
The long road to retirement
When you're in your twenties, retirement feels a long way off – especially when most of us have more immediate financial concerns. But the reality is that starting a pension is one of the most valuable things you can do for yourself in your twenties. Thanks to compound interest, starting at 25 instead of 35 can make a huge difference to your pension pot.

The state pension age keeps retreating further into the distance, and will likely continue to do so. While in theory this gives younger people more time to save, increasing life expectancies mean that our pensions will need to sustain us for longer than ever. Local authorities already struggle to meet the care demands of our aging population, so long term care is something that we'll need to plan for ourselves.
There are also bigger questions that we won't be able to answer until we get there: what might "work" look like for a generation working into our seventies? How will we stay competitive in the job market as our health declines? Will we be able to enjoy the relatively healthy and active retirement our parents and grandparents had?
More guidance needed
It's a complex financial maze to navigate, and most twenty-somethings have to do it alone. The introduction of financial education to the national curriculum is certainly welcome, but it comes too late for those already out of the system. A lack of financial awareness can leave younger people in danger of making the wrong decisions.
Twenty-four year old Cherie said: "I'm a graphic designer, and a lot of my peers are freelancers. They came straight out of university and had to figure out things like tax and self-assessment on their own – which is pretty daunting when you're busy trying to find enough work to pay the bills.
"I also have no idea when my student loan will be paid off, or how much I'll actually pay – it feels like a big, unknown burden right now. When it comes to things like insurance and saving for a pension, it sometimes feels like short-term things have to take priority."
Changing expectations?
It's clear that, for today's twenty-somethings, life will be very different to the way it was for our parents – so perhaps we should adjust our expectations accordingly? Ruston, aged 25, said:
"What often gets overlooked is that we live in a different time to our parents or grandparents, yet we're expected to do the same things as them. We have opportunities that neither of those generations had thanks to technology like the internet.
"People are getting married later, so there's a new stage of adulthood when young people are able to live on their own rather than settle down straight away. This means that buying a house and starting a family becomes less of a priority.
"I also think that the way people portray themselves on social media creates a false sense that everyone is somehow further ahead than you, which can cause a lot of stress."
How to lay a solid financial foundation
In your twenties, it's easy to bury your head in the sand when it comes to money – but this won't help you in the long term! We asked Chris Budd, Managing Director at Ovation Finance, how today's twenty-somethings should be thinking about their money:
"My approach to financial wellbeing is underpinned by a 'know thyself' principle. Work out what you want from life, then create a plan to get there. This is especially important in your twenties, as it is such a difficult question to answer. But I think it's essential to have some form of vision of a future, so that the necessary sacrifices and savings today have real resonance.

"Words like 'retirement' are not very helpful, in my view. Often people are just looking for a bit of flexibility in their lives, or to be able to do a job they enjoy and not worry about the money.

"The solution to these things is to have a financial plan. In the simplest of terms a spreadsheet of your income and outgoings covering your entire life, but ideally more sophisticated. This can show you what saving just a small amount now could mean for you in twenty years time."
The good news is that by reading this article you're already engaging with your finances, which is the first step! For more tips on how to build your financial wellness, read our article on easy habits that can help you to make your money work for you.