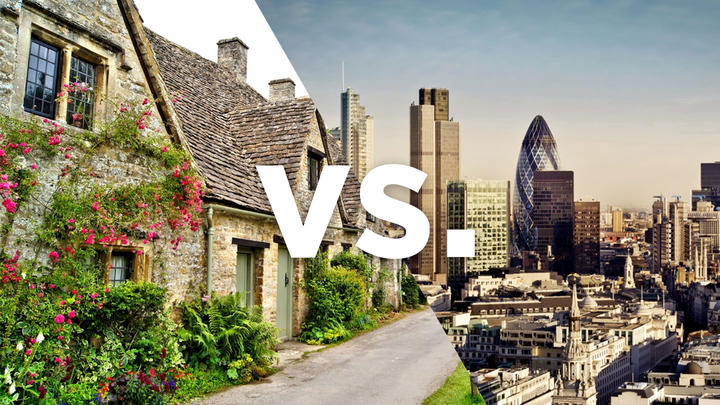 An Englishman's castle in the country costs substantially more than in the city, or so says a recent house price survey.
According to research by Halifax, the average house-price in rural areas is £46,575, 26% more expensive than in urban areas across all regions. The biggest gap in rural and city house prices is in the West Midlands where there's a 57% difference in the average price tag (equivalent to £88,781). In the North East, where the difference is at its least noticeable, it's just 13% (or £17,570).
Although the figures may be surprising, the gap is actually narrowing. Property prices have risen more slowly in rural areas during the past five years. Between 2009 and 2014, the average price of a home in the countryside rose 12%, compared to an average increase of 18% in urban areas (excluding Greater London).
The price difference could also reflect the size difference between properties in urban and rural areas, with small properties such as flats the norm in the city.
What it means for first-time buyers
First-time buyers make up 42% of all mortgage holders in the countryside, compared to 54% in cities, and they represent a strengthening market. The number of first-time buyers has risen significantly since 2010, especially in urban areas. There are also clear issues of affordability: the average countryside home is equivalent to 6.8 times gross annual earnings, compared to just 5.6 times in urban areas.
What this means for anyone escaping to the country
While first-time buyers are particularly squeezed by the premium for house prices rurally, this also affects anyone making the move from city to rural – it might be a quieter life, but house prices in the sticks are shouting loudest.
Looking forward to moving in 2015?
Get your mortgage sorted out with a free call back from a mortgage adviser.
Particularly in the south and south east of England, house prices reflect the dream of escaping to the country, yet still remaining in commuting distances from urban centres, including London. In fact, in popular southern rural areas like East and West Dorset, just a quarter of houses were purchased by first-time buyers in 2014 so far.
So, if you're thinking of ditching the rat race, it's important to shop around for the best mortgage deal.
One option is to take out a tracker mortgage. Tracker mortgages are similar to variable mortgages, except they typically track the Bank of England base rate. Rates are usually lower than fixed mortgage rates as they can go down or up depending on the base rate.