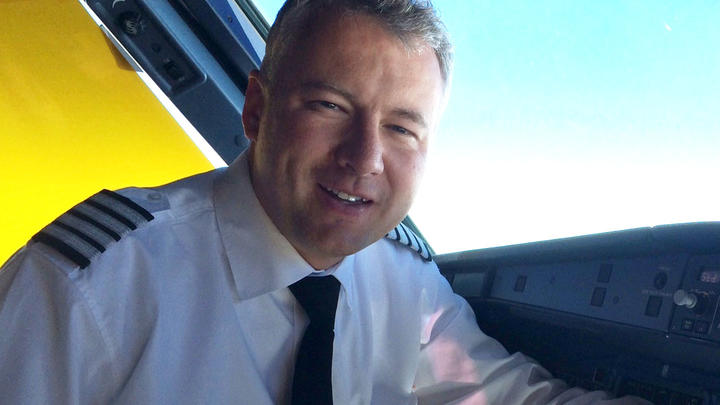 Today's MoneyHub featured user is Ben, a pilot and father of three little boys. MoneyHub is a tool that helps you to track and analyse spending and plan ahead for the future, all in one place.
YourWealth's Angelique Tonge met up with him to find out what life is like when you have your head in the clouds...
Ange: Hi Ben! Firstly, what made you choose this career and would you advise a younger you to follow this route?
Ben: I actually left university to work as an aircraft design engineer for a few years, but, sitting at my desk and watching the planes take off and land on the runway in front of me kept nagging away, so I thought I'd have a go at applying.
Would I advise a younger me to become a pilot…? Hmm, like many industries, the landscape is changing and you really have to go into aviation with your eyes open. Nowadays you need deep pockets too, so it's likely to require approximately £100k, maybe more. When I trained, it was possible to get an unsecured loan from some banks for the training, but now it has to be guaranteed from the "Bank of Mum and Dad". So I hope my three boys don't all want to become pilots!
A: The life of a pilot seems one of ultimate luxury; five star hotels, leisure, exotic locations… How does the reality compare?
B: Er… Where do I start? Being a pilot is fun and dynamic, but it's not like it used to be! I can get a good rate at Travelodge… Being less flippant, it's wonderful to take people safely on their holidays, to important business meetings, family reunions or students on exchanges. Aviation has helped open the world up and improve opportunities for all of us. It's a privilege to be a small part of that.
A: Have you had any close encounters mid air?
B: No! Aviation is very safe, and one has to rely on the professionalism of many others; engineers who hand the plane over to us each morning, fellow pilots - sat beside you and in other aircraft - and of course Air Traffic Control. They do an incredible job of keeping planes separated from one another, and have never let me down.
A: Which are your favourite airports?
B: Hard to say, but Innsbruck in Austria is spectacular on a clear day, especially as you drop below the level of the mountains. Inverness is also beautiful as you pass over the steely-grey waters of Loch Ness. And, closer to home, flying into Bristol where I live always strikes me as so green and lush. Makes up for all the rain we get, I suppose…
A: What's the worst thing about being a pilot?
B: The early starts and late finishes…
A: Have you ever flown any celebrities?
B: My personal favourite (and it would be hard to better) was having guitar legend Brian May and his wife Anita on board. They were such charming people to meet.
A: Is it true that a pilot and co-pilot cannot have the same meal?
B: With the sort of short-haul flying I do around Europe, this isn't such a big deal, but nonetheless, Captains and First Officers are not meant to eat the same meals.
A: When flying as a passenger, what annoys you most?
B: As my wife will vouch for, I am not a good passenger! Added to that, when you spend all your working life on and around planes, I'm not always that keen to jump on one for my holidays.
I suppose the most annoying thing for me (or anyone else?) as a passenger is when fellow passengers forget their manners; rare but frustrating, especially for the cabin crew. I'm often impressed by how well our crew work to diffuse any potential "situation."
A: As a MoneyHub user, we'd love to hear your thoughts. What do you like most about our technology and what would you like to see improved?
B: If I were to improve one thing, it's the way transactions are harvested from my bank. To be honest, it's more an issue with my bank than MoneyHub, but the ability to manually enter or 'import' historic transactions would be handy. I think MoneyHub is a fantastic idea, and something that's long been missing for consumers. It's great to see a product that enables you to view all your financial matters in one place, joining data together to see a full picture. It's that breadth and "completeness" that I like most. You can see your pension value on one screen, and how much you spent at the café yesterday on the next!
A big thanks to Ben for taking the time to chat to us! While we can't all take to the sky just yet, we've got plans to go places with MoneyHub.
Are you a MoneyHub user? If you'd like to give us an insight into what you do and feature on our blog, don't hesitate to get in touch via Twitter, or email our editor on lucia.harris@yourwealth.co.uk.