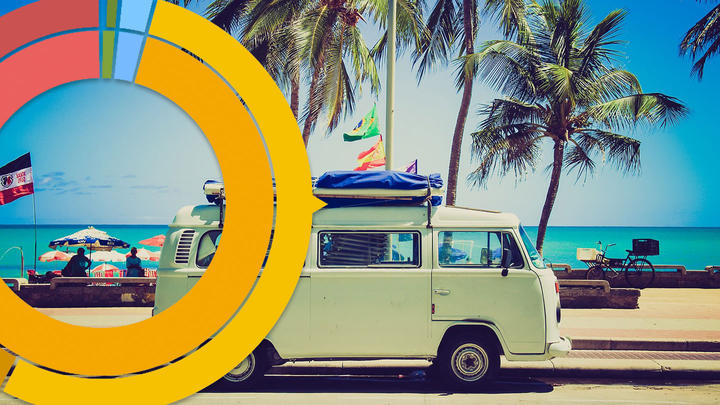 Money isn't everything, but almost everything we want to do in life requires money. If you want to reach your goals, it's important to make sure your money is working as hard for you as it possibly can; that's why we created MoneyHub. We believe that, once you've got clarity and control over your finances, the possibilities are endless – here are five to get you started.
1. "We want to have our dream wedding and honeymoon"
Many of us dream of the perfect wedding, but making that dream a reality can sometimes take more planning (and cash) than you think. If you and your partner are ready to tie the knot, MoneyHub can help you on your journey to the altar.
Once you've decided what you want from your big day, you will need to work out what you can afford. With MoneyHub, you can get a complete picture of your income, savings and other assets, as well as any debts and liabilities you need to cover. Adding your partner allows you to view your finances as a couple so that you can plan for your joint future.
By setting up a savings goal in MoneyHub, you can track the progress of your wedding fund. The Budget Calendar allows you to plan ahead for big expenses like your venue, so that you can set money aside in advance. If it starts to look like you won't be able to afford the wedding you want, MoneyHub can help you to see where you can make changes and cutbacks in your expenditure.
2. "I want to be debt free in 5 years"
Clearing debts can be an important step on the path to financial freedom, but without a map, it's difficult to find your way out of the maze. MoneyHub can provide that map, helping you to see the bigger picture and a clear route to where you want to be. Take a detailed look at your monthly budget to see how much you can afford to repay every month (cutting out takeaways could help you become debt-free quicker!) and then set up a get out of debt goal to track your progress as you go. When you've cleared your debt, use MoneyHub to see what you can do with your new-found extra cash; why not set up a new savings goal?
3. "I want to go on holiday to Barbados next year"
There are times (usually in the depths of winter) when we all crave a bit of sun. Dreaming of your ideal holiday is all very well, but making it happen requires a little planning. Once you've set your sights on your dream destination, it's time to work out how you're going to get there. Set up a savings goal in MoneyHub, and then take a look at your budget to see where you can save. Watch as you progress towards your goal - and the beach - and if you fall behind, adjust your plan to get back on track!
4. "I want to own a home in the next 3 years"
Owning a home is a dream many of us share, but taking that first step onto the property ladder can be difficult. MoneyHub can help you at each stage, from setting up a savings goal for your deposit, to carrying out your own "affordability check" by getting a detailed picture of your financial situation. We've also got some great tools and calculators to help you on your way to getting a mortgage - just go to "Tools and Calculators" and then choose the Mortgages tab. Here you can work out how much you can afford to borrow, how much stamp duty you'll pay and more. For more detail on how MoneyHub could help you get a mortgage (with a little help from a certain Swedish pop group…) see our guide.
5. "I want to be financially secure when I retire"
Pensions and retirement planning may not sound as exciting as a holiday in Barbados or the wedding of your dreams, but it's something none of us can afford to ignore. It's never too early to start planning, and MoneyHub can help! If you're at the beginning of your career and thinking about starting to save, try using MoneyHub to adjust your budget and free up some extra cash. If you've already got a pension pot, use the handy tools and calculators to work out how much it might be worth. You can also project your net worth over time, getting an overview of your financial situation as you get older.
MoneyHub offers you detailed insight into your finances to give you a clear impression of where you are, as well as the tools to help you get where you want to go.