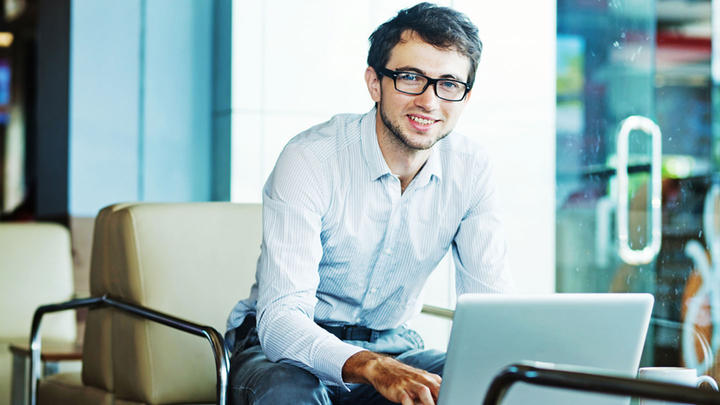 Business: the world of pinstriped suits, board rooms, spreadsheets and profit margins, right? We meet four entrepreneurs who are proving that stereotype well and truly wrong for 2014. All under 25, they're innovating and challenging the status quo to carve a winning path for themselves (and the things they believe in)...
The tech supremo
Name: Oliver Murphy
Age: 20
Company: Reviveaphone
Oliver started with just £400 in his mum's airing cupboard, and Reviveaphone's premise is brilliantly simple: a small pouch of chemicals to revive your water-damaged phone. The kit includes chemicals that remove the deposits which build up on a phone's motherboard after exposure to liquids, essentially bringing what can be expensive handsets to insure or replace back to life. Initially produced, packaged and sent out to customers by Oliver himself, the kits generated an impressive £20,000 revenue in the first year alone.
Oliver then went on to conquer the perilous Dragon's Den, leaving with a sizeable £50,000 investment from Kelly Hoppen, and predicts that Reviveaphone will make £250,000 this year. But the 20 year old entrepreneur isn't standing still: he plans to break out into other ventures as well. "I see myself owning multiple businesses and selling a couple of those," he said in a recent interview. "I have always wanted to get into the property market, so I have definite plans for that."
And what of the obstacles that come with lack of experience? "Every day presents new challenges, like dealing with suppliers and ensuring the quality of the product and customer services are up to scratch – but all of these challenges are making me stronger as an entrepreneur," said Oliver.
The ethical flip-flop pioneers
Name: Paul and Rob Forkan
Age: 24
Company: Gandys Fashion Ltd
After brothers Paul and Rob Forkan were caught up in the 2004 Boxing Day tsunami, narrowly surviving but losing their parents, they decided they wanted to "start something with real purpose". They finished their education and both got jobs in London to save enough to do something socially responsible in memory of their ethically-minded parents. They travelled in pursuit of something they really believed in, eventually founding flip-flop brand Gandys in 2011. Gandys gives a percentage of the sale price of flip-flops to build orphanages through their charity the Gandys Foundation.
Now stocked in Topman, Selfridges and House of Fraser, Gandys have gone from strength to strength - Richard Branson even insists the staff on Necker Island wear them. In memory of the 10th anniversary of the Tsunami, the brothers are on track to open their first children's home in India this year. They also welcome any opportunity to speak about the inspiration behind the brand, regularly giving talks internationally.
The tea-preneur
Name: Jules Quinn
Age: 25
Company: The *Teashed
Jules Quinn had a eureka moment whilst doing a rubbish work experience placement. While on a tea run for the office she realised on a lunch-break trip to a supermarket that there were no tea brands aimed at younger people. The *Teashed was born as a result in 2011 from Jules' desire to see tea become young and cool. What's more, the company expects to generate £250,000 in revenue this year - not bad for an organically-funded venture with one employee.
The *Teashed is now a part of the wider emerging artisan teas market now selling in the V&A Museum, John Lewis, Fenwick and Heals. Already Jules has plans to roll out the business globally, having just secured a deal to roll out franchised shops in Taiwan and Japan. Not bad for an intern.
The coding trailblazer
Name: Amelia Humfress
Age: 24
Company: Steer
Also starting out as an intern, albeit at designer shoe giant Jimmy Choo, Amelia discovered a gap in the market for easy, accessible coding courses after attempting to learn to code. Amelia's company, Steer, now offers high-quality course in HTML, CSS, iOS coding, Rails and jQuery from a base in Clerkenwell, London and is founded on the idea that "learning to code can be simple".
Having just celebrated Steer's first year in business, the coding and web development service is on track to make £408,000 in 2014, with a new marketing push based on content and email to launch this year. It's almost unheard of for a new business to turn a profit within the first few years of trading but Steer has managed to achieve just that: with £100,000 of angel investment secured, Amelia plans to scale the business organically from now on.
The takeaway
These four mavericks gave up the nine to five to be their own boss. Even if you haven't had your great business idea yet (they say, like novels, there's one in all of us), it's easy to appreciate the dedication, single-mindedness and sacrifice required to start a business at a young age. See it as ample motivation to put your finances in order. Whatever you're aiming for, having an ambitious but practical approach to how you manage your money is certainly food for thought.
Setting goals to drive you towards them, and having the ability to regularly check in on your progress could be important. MoneyHub can help you track your progress towards important financial goals.