How much pocket money do children get on average?
73% of parents give their children pocket money, according to a survey by Aviva. Age seemed to be a vital factor in deciding how much pocket money parents are willing to give. The average pocket money per week for 5-8 year olds was £2.62, while the average pocket money among 16-18 year olds was £9.88.
Aviva's survey also found that:
9-11 year olds receive average pocket money of £3.82 per week
When children become teenagers the amount goes up sharply, with the average pocket money for 12-15 year olds coming in at £6.96 per week
London parents gave the most pocket money at £13.12 per week overall.
Why do parents give pocket money?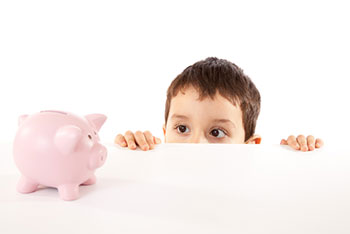 Pocket money can be a great way to teach kids about money management, and give them the freedom to save for things they want. The lessons they learn about finance at this young age could very well affect their money habits throughout their life, and pocket money could provide them with a taste of important life skills such as budgeting and money management.
As well as helping to teach children to budget and save, pocket money can be a tool that incentivises good behavior, and be withheld for bad behavior.
Aviva's Product Director for Pensions and Investment, Tim Orton, talking about pocket money said:
It is good to see that some parents are already encouraging their children to grasp a basic understanding of what it takes to make and save money on a regular basis.

Although many parents continue to pay pocket money indefinitely, or as long as their child needs it, there are encouraging signs that some do try to persuade their teenagers to get a part-time job in order to provide them with some financial independence and future security.

Teaching children how to manage their money from an early age and save something every month is an important trait. Saving a little and often will definitely stand them in good stead for later life.
What are the arguments against giving pocket money?
There may also be negatives to giving pocket money to though, and some parents decide against giving it.
Some research suggests that children who are given pocket money are less likely to save. A study by Sheffield University's Department of Economics surveyed 6,000 children and found that increasing a child's allowance by just 1% was linked to a 22 percentage point drop in the likelihood that the child would save. Those with part-time jobs were found more likely to save than their non-working counterparts.
Is pocket money rising?
The average pocket money for children of all ages increased from £5.98 in 2012 to £6.50 in 2013, according to a different survey by Halifax in 2013. The bank's Annual Pocket Money Survey also found that the number of children receiving pocket money had increased by 7% year-on-year.
Richard Fearon, Head of Halifax Savings explained:
With a greater number of children now keeping their money in a bank or building society, and 75% saving at least a quarter of what they receive, they can use their pocket money to get first hand experience of managing their own money, which will be of real benefit as they grow up.
Play the money game
Whether or not you choose to give pocket money to your children, or how much you give, there may also be other ways that you can familiarise your children with good money management such as playing money-themed games (remember playing "shop"?), sending your child out with a shopping list or getting younger children to help you make and shop to a budget.
What do you think? Are you for or against pocket money? How much do you give? How much is too much?